Wal-Mart Revamps Auto-Care Centers in Bid to Improve Service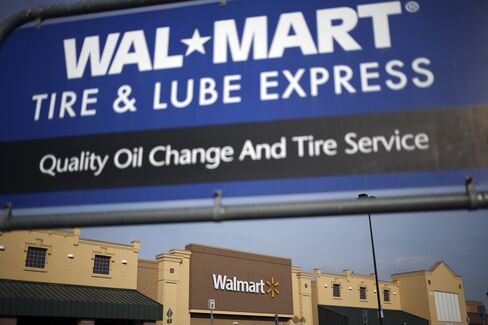 Wal-Mart Stores Inc.'s auto centers, the car-maintenance areas attached to many of its stores, are getting a service overhaul.
To improve the experience and entice more customers, the company is dedicating staffing and training programs to the department. A new class of salaried assistant managers will be assigned to the auto-care centers, where they'll oversee merchandise and services, said Kory Lundberg, a spokesman for the Bentonville, Arkansas-based company.
The changes are meant to yield benefits beyond the auto centers. Customers are likely to shop around the stores as they wait for their cars to be fixed, said Burt Flickinger, managing director at Strategic Resource Group in New York. The company has been trying to improve sales in the U.S. division, which earlier this week reported comparable-store sales that missed analysts' estimates.
"People will be spending at Wal-Mart auto care, then, because they'll have an hour to shop, they'll probably be spending more in the supercenter," Flickinger said.
Wal-Mart's more than 2,500 auto-care centers in the U.S. historically have been underused, he said. Since they're usually hidden on the side of stores, some shoppers don't even know they exist, Flickinger said.
Challenging Sears?
Wal-Mart performs millions of tire and oil services a year, according to its website. Half of the new managers for the auto centers will be promoted from the hourly ranks within stores, Lundberg said. The managers, who will be deployed nationwide, are currently being trained in Bentonville on topics such as customer service, operations and compliance.
The company's auto initiative could take market share from vulnerable competitors, such as Sears Holdings Corp., which has had success in its car-care business despite companywide troubles, Flickinger said.
"It's shocking that prior Wal-Mart leadership didn't identify this as an opportunity to capitalize on, especially since they've invested in all the other key captive consumer areas -- from vision care to pharmacy," Flickinger said.
Still, it's hard to tell how much of an impact the latest improvements might have, said Brian Yarbrough, an analyst at Edward Jones in St. Louis.
Waiting Rooms
"They usually have waiting rooms where you can't even see inside the store," Yarbrough said. "Usually auto stores have better margins, but it's not like they have a massive waiting room."
Customers also may not think to go shopping while they wait, he said. "People shopping, then sitting around with their bags while they wait in small chairs -- I'm not sure how that works."
The company has no plans to make any physical changes to the auto-care centers, Lundberg said.
The emphasis on the auto centers is the latest sign of the retailer's renewed focus on customer service. As part of the push, Wal-Mart has raised wages and stepped up training. About 500,000 of its 1.3 million employees got a raise last month, with hourly rates going to $9 an hour. Wages will climb again to $10 by next year. Wal-Mart also said last month that it was removing a layer of in-store management to simplify operations.
Chief Executive Officer Doug McMillon, who took the reins more than a year ago, is trying to pull the chain out of a U.S. sales slump. Earnings and revenue both missed analysts' estimates last quarter, sending the stock down 4.4 percent on Tuesday. The stock declined 0.3 percent to close at $75.86 on Friday.
Wal-Mart also recently eliminated its U.S. regional-division executive vice president positions. And the chain has discussed shifting regional operating staff in the field back to headquarters, people familiar with the deliberations have said.
Before it's here, it's on the Bloomberg Terminal.
LEARN MORE