Ban Ki-moon Is Flirting With a Run for the South Korean Presidency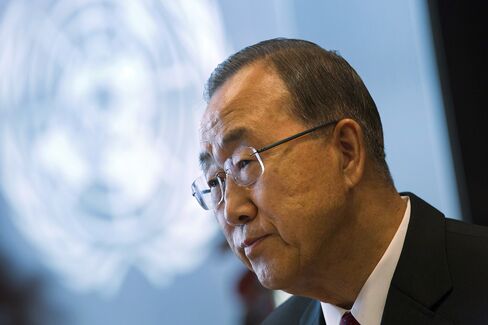 For almost six hundred years, Haengchi villagers nurtured a legend that the beauty of a thousand apricot trees would inspire the gods to bless them with the birth of a man destined for world renown. United Nations Secretary-General Ban Ki-moon is that man.
Now the 140 residents of the hamlet about 130 kilometers (80 miles) from South Korea's capital are waiting to see how far Ban's fame will grow.
As his second and final UN term nears its December 2016 conclusion, speculation in newspapers and political circles is high that Ban will seek election as South Korea's president — and even resign early from his current role to do so. A struggling economy and corruption scandals in President Park Geun Hye's government have left voters disillusioned, while opinion polls show Ban appealing as a perceived champion of peace, human rights and equality as UN chief.
"Certain key nations have asked my senior staff and diplomats at the South Korea's UN mission whether the Secretary-General is going to quit midway through to run for president," Ban said in his mother tongue Korean during an interview in Seoul Thursday. "That is creating extremely unnecessary speculation."
Ban's planned tour of an inter-Korean factory park in North Korea this week further fueled rumors in both South Korea and the UN about the 70-year-old former foreign minister's presidential ambitions.
The Gaeseong trip was always likely to have more domestic impact than its stated aim of easing tensions with Kim Jong Un, according to two UN officials in New York, who asked not to be named due to the sensitivity of the matter. Had North Korea not canceled the visit at the last minute, Ban would have made history as the first UN chief to visit the country in more than two decades, and the only one to visit Gaeseong.
'Open Door'
"The fact that Ban is not explicitly saying that he won't run in the election implies that he's interested and wants to leave that door open," said Jeong Han Wool, senior fellow at the East Asia Institute in Seoul. "His sudden announcement of his trip to Gaeseong also proves that. From the voters' perspective, it came out of the blue and because they question what can tangibly be achieved by visiting Gaeseong, the trip appears politically motivated."
Financial markets responded to the buzz.
A number of so-called "Ban Ki-moon theme shares" rose as much as the daily limit 15 percent the day after Ban announced his Gaeseong trip. They included Bosung Power Technology Co., a power supply material manufacturer where Ban's younger brother Ki-ho is a vice president, and Korea Cable TV Chung-Buk System Co., based in Ban's birth county.
Phoenix Materials Co., a plasma display manufacturing subsidiary of a corporation run by Ban's university classmate, soared as much as 12 percent.
'Vague Expectation'
"These trades are not based on the fundamentals or the performance of these companies," Ko Seunghee, an analyst at KDB Daewoo Securities Co. in Seoul, said by phone. "They're purely speculative, based on the vague expectation that these businesses will somehow benefit from a Ban victory."
Ban had tried to prevent this, asking the public on the first day of his five-day trip, which included speeches at universities and at a digital conference, to stop "making any assumptions about my political future, such as conducting opinion polls."
The warning was ignored, and a poll published the day after Ban's plea by Research and Research gave him a significant lead over other presumed presidential hopefuls with a 36.4 percent approval rating. Both ruling and opposition party leaders were more than 20 percentage points behind, according to the survey of 1,000 people conducted May 15-16.
The approaching end of Ban's UN tenure is among the factors fueling speculation he'll run. His term ends a year before the next presidential election, about the time candidates begin their campaigns.
Swing State
Then there's his birthplace, which has a political significance beyond the ancient legend. Haengchi is in North Chungcheong province, an area that can swing the political balance between the liberal southwest and conservative southeast. It makes Ban potentially attractive to all parties, especially as he hasn't declared any allegiance.
He also has credentials in North Korea policy, having served as foreign minister in former President Roh Moo Hyun's administration. Roh spearheaded the "sunshine policy" of engagement with North Korea and the Gaeseong complex, a symbol of inter-Korean rapprochement, opened on Ban's watch.
"South Korean voters are tired of being in confrontation with North Korea, with more than 80 percent saying they support summit talks with Kim Jong Un," Jiyoon Kim, a public opinion studies research fellow at Asan Institute for Policy Studies in Seoul, said by phone. "Any efforts to help untangle those tensions will be a plus, politically."
Brand Ban
Ban also has a personal brand and story that few if any South Korean politicians can match. His biographies have been bestsellers, detailing a journey from his childhood living off handouts from U.S. troops in postwar Korea to the head of an organization with a $6 billion budget and 44,000 employees.
It's a phenomenon that financially benefits Ban's birthplace, which exports organic chili powder, peaches and ginseng with a "Made in Ban Ki-moon's Hometown" stamp. It also hosts an annual Ban Ki-moon marathon.
South Korean university students last year voted Ban the most inspiring Korean, and they've turned out in force this week at Ban's speaking events.
"I'm never going to wash this hand," fashion design major Han Hye Su said after shaking Ban's hand at Ewha Womans University in Seoul. "It's hard to find people who sacrifice themselves for the good of the world, and not out of ego or for personal gain. I don't know if he has ambitions but I don't think he should ever run -- politics will taint him."
Rough Politics
The rough-and-tumble world of South Korean politics may not appeal after Ban's stint on the 38th floor of UN headquarters in Midtown Manhattan, said a former colleague, who asked not to be named due to the sensitivity of the matter.
A senior UN official who supports a Ban presidential bid, who also asked not to be named, counters that his UN role has given him more than enough training to cope, likening the role to handling 193 mothers-in-law speaking different languages and all with their own values and agendas.
For his part, Ban and his office have repeatedly said he's not interested in domestic politics and wants to focus on the UN until the end of his tenure. His refusal to explicitly rule out a run has added fuel to the rumors.
"Nobody has the right to impose this question of whether I'll run or not," Ban said in the interview. "It's strange and illogical for me to suddenly say that I won't run for president, when I've never even said that I will run."
Before it's here, it's on the Bloomberg Terminal.
LEARN MORE