UBS Executives Cash in After Stock Soars on U.S. Settlements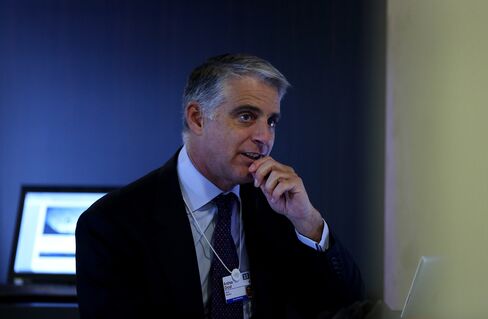 As many as seven top officials at UBS Group AG sold their shares at some of the best prices in years after the Swiss bank reached an agreement with U.S. prosecutors ending major legal threats.
Executives or directors sold a total 1.17 million shares to yield 23.8 million Swiss francs ($26.3 million), according to a regulatory filing. That amounts to 20.38 Swiss francs per share. The single biggest sale, for 428,264 shares, brought in 8.7 million francs.
The filing didn't identify who cashed in their shares, the first such sales this year. Just two executives had more than 400,000 shares that were vested, or eligible for disposal, at the end of 2014. They were Andrea Orcel, head of UBS's investment bank and Chi-Won Yoon, president of the Asia Pacific region.
The stock surged as high as 20.55 francs on Wednesday, after the bank announced settlements of U.S. rate-rigging probes. That was the highest intraday price since Oct. 6, 2008, before the bank's bailout later that month.
The managers conducted seven separate share sales a day later. Companies must comply with regulations restricting the timing of such sales to prevent trading based on inside information.
UBS was fined a total $545 million, much less than some analysts predicted, to resolve allegations that traders moved currency and interest rates to personally benefit.
Although Orcel and Yoon were the only managers in position at the end of last year to make the biggest sale Thursday, others may have accumulated more vested shares since then.
Sergio Ermotti, UBS's chief executive officer, was paid 11.2 million francs for 2014, including about 5.9 million francs in shares, none of which he could immediately sell.
UBS was among a group of banks fined this week for attempting to rig foreign exchange rates. Its main unit was also fined for manipulating benchmark interest rates and agreed to plead guilty to one count of wire fraud after the U.S. Department of Justice scrapped a 2012 non-prosecution agreement the bank violated through its misconduct in currency trading.
Before it's here, it's on the Bloomberg Terminal.
LEARN MORE