Spain May Begin Shift Beyond Two-Party Control in Regional Vote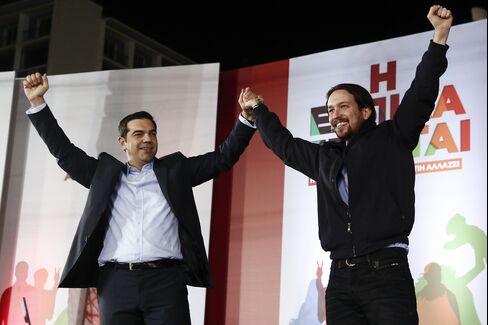 After four years of protests against austerity and corruption, Spanish voters are deciding on Sunday whether they are ready to move beyond the two-party duopoly that has ruled for the past three decades.
Spaniards are going to the polls to choose representatives in more than 8,000 towns and 13 of the country's 17 regions. It's the first nationwide ballot since two new parties, Podemos and Ciudadanos, emerged as challengers to the political establishment.
A surge in participation among younger voters may push up the overall turnout by about 5 percentage points and boost support for the political insurgents, Jose Juan Toharia, president of polling firm Metroscopia, said in an interview with El Pais newspaper late Friday.
Prime Minister Mariano Rajoy's People's Party and its traditional rival, the Socialists, have controlled Spain's central government since 1982 and have dominated regional and local politics for most of that period. Podemos and Ciudadanos are threatening to disrupt that position, channeling citizens' frustration at the highest unemployment rate in Europe and widespread corruption.
Election Bellwether
"We'll see in these elections a very real photo of how open things really are," said Antoni Gutierrez, a Barcelona-based political consultant who had advised politicians including former Catalan president Jose Montilla. "It'll show how deep the changes in Spanish politics are."
Rajoy's PP, which registered its best ever regional election result in 2011, will probably win the most votes in nine regions but lose its outright majority in all except one, according to a survey by state pollster CIS.
Podemos, an anti-austerity party allied to Syriza in Greece, emerged as a national force in the European elections held 12 months ago, capturing 8 percent of the vote less than six months after it was set up. The PP and the Socialists won less than half the votes in a nationwide election for the first time in two decades.
Since then, Podemos has topped several national polls. Its support has been tempered this year by the emergence of Ciudadanos, which is proposing a pro-market plan to renew Spain's economy and its democratic institutions.
The two parties may claim about a third of the vote between them on Sunday, according to the CIS, making them potential coalition partners in many regions. One in five voters were still undecided in the survey of 2,479 conducted between April 1 and April 12 and released earlier this month.
Still, the horse trading may not be easy.
Rajoy's Goals
Andalusia's acting president Susana Diaz has been negotiating with Podemos and Ciudadanos for almost two months since her Socialist party failed to reach an outright majority in her region's elections. Socialists may also need support in Asturias and Extremadura where they are set to win most votes, the CIS data show.
"These elections are in a way a dry run for the general election," said Jose Ignacio Torreblanca, head of the Madrid office of the European Council on Foreign Relations. "It's possible that we see a lot of minority governments run by the PP or the Socialists. The new parties don't look very interested in governing."
Rajoy is betting on the economic recovery to contain dissent within his party and sustain his chances of re-election despite the corruption allegations that have dogged his term in office. The prime minister has said he plans to run for a second term even though 85 percent of Spaniards have little or no confidence in him, according to the CIS. Even among PP voters, 54 percent have lost confidence in his leadership, compared with 16 percent in January 2012.
The PP has claimed at least 34 percent of the votes in all local elections since 1995 so anything below 30 percent would be considered a "severe punishment," according to Floridablanca, a pro-market research group close to the party. It would be "catastrophic" if the party failed to get the quarter of the vote it won in 1991, the group said on its website.
Before it's here, it's on the Bloomberg Terminal.
LEARN MORE