Probe Into Wrong U.K. Opinion Polls Won't Be Finished Until 2016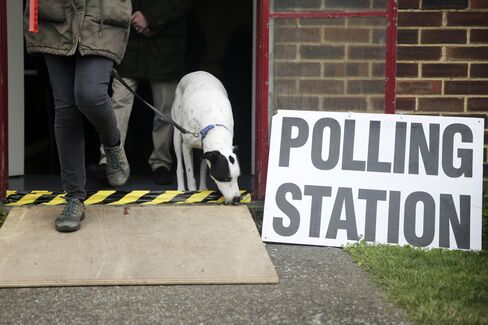 An inquiry into the big mystery of the 2015 U.K. election -- why opinion polls failed to foresee Prime Minister David Cameron's Conservatives winning a parliamentary majority -- isn't due to be completed until early next year.
The timetable for the probe, with a report due to be issued by March 1, was set out Friday by the British Polling Council, which announced the inquiry the day after the May 7 election. The Tories took 36.8 percent of the vote across the U.K., compared with 30.4 percent for the Labour Party. Virtually all polls before the election showed the two parties neck-and-neck.
"The polls clearly gave the public a misleading impression of the likely outcome of the 2015 election and this shaped the reporting of the campaign," John Curtice of the University of Strathclyde, the BPC president, said in an e-mailed statement. Curtice oversaw an exit poll on election night, which provided a more accurate prediction of the actual result.
Possible causes of the misleading polling during the campaign included poor sampling methods, interview techniques and weighting of the data along with late changes in voter preferences, according to the statement released by the BPC and the Market Research Society.
The inquiry will be led by Patrick Sturgis, director of the National Centre for Research Methods at Southampton University. It will assess whether the release of results "was influenced by a reluctance to be out of line with the published figures of other polls."
A Survation telephone poll which measured the result accurately wasn't published for that reason, the company's founder and chief executive officer, Damian Lyons Lowe, wrote in a blog post after the election. "I 'chickened out' of publishing the figures – something I'm sure I'll always regret," he said.
Before it's here, it's on the Bloomberg Terminal.
LEARN MORE