Orix, Vinci Submit Bid for $18 Billion Osaka Airport Rights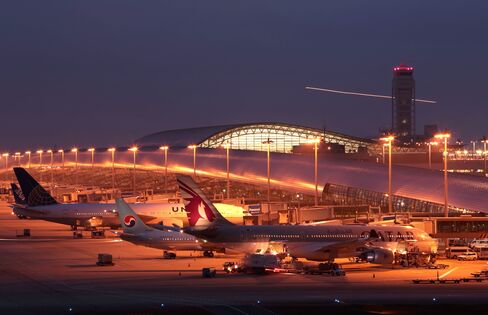 Orix Corp., one of Japan's most acquisitive financial firms, teamed with French infrastructure operator Vinci SA in a bid for airport rights in western Japan's Osaka prefecture.
The Orix-led group submitted a first-round offer by the Friday afternoon deadline, Atsushi Horii, a spokesman for the Tokyo-based firm, said by phone. An external spokesman for Vinci, who asked not to be named citing company policy, also confirmed the bid.
State-run New Kansai International Airport Co., which is selling the rights to run two airports, could receive at least 2.2 trillion yen ($18.2 billion) over the 45-year life of the concessions, according to a statement on its website last year. Orix's consortium may be the only bidder, as some other potential suitors were turned off by the risks of operating an airport for decades, people with knowledge of the matter said, asking not to be identified as the information is private.
Prime Minister Shinzo Abe's government is privatizing state-controlled airport operations for the first time in a bid to cut public debt and attract private investment. The government is also selling a 30-year concession for Sendai Airport in northeastern Japan, according to transport ministry documents.
New Kansai plans to select a preferred bidder in July and reach an agreement in August, according to a Feb. 10 statement. Norihisa Tagawa, an Osaka-based spokesman for New Kansai, declined to comment.
The company's operating profit rose 36 percent in the year through March to 44.3 billion yen. Its Kansai International Airport increased passenger throughput 11 percent during that period to 20.04 million passengers. The number of travelers at Osaka International Airport, which now focuses on domestic flights, increased 4 percent to 14.6 million.
Before it's here, it's on the Bloomberg Terminal.
LEARN MORE