Mexico Shootout Leaves at Least 39 Dead, Official Says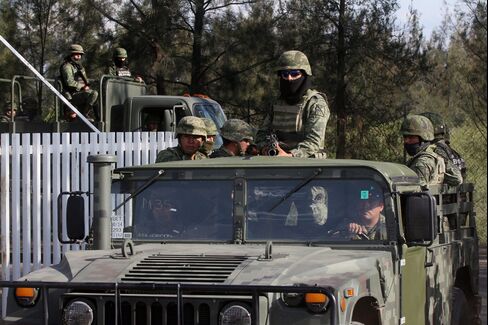 At least 39 people died in a clash between armed civilians and Mexican federal forces in the western state of Michoacan, according to a government security official.
Thirty-seven suspected criminals and two police officers died in the gunfight on Friday based on a preliminary count, said the official, who asked not to be named citing agency policy. The shootout occurred in the municipality of Tanhuato, about 260 miles (420 kilometers) west of Mexico City, the official said.
The battle occurred in a state that has been one of Mexico's most violent in recent years. President Enrique Pena Nieto deployed the military to Michoacan last year after armed vigilantes stripped police officers of their weapons in more than a dozen towns, accusing them of links to drug traffickers.
The clash Friday came three weeks after a military helicopter was shot down in the state of Jalisco, which borders Michoacan. The attack on the aircraft was part of a reaction by the Jalisco New Generation drug cartel to a crackdown by authorities, Jalisco Governor Aristoteles Sandoval said May 1, newspaper Excelsior reported.
Mexico has been racked by a drug war that's left more than 70,000 dead since 2006, according to newspaper Milenio.
Before it's here, it's on the Bloomberg Terminal.
LEARN MORE