Europe Said to Weigh Contingency Plans in Greece Impasse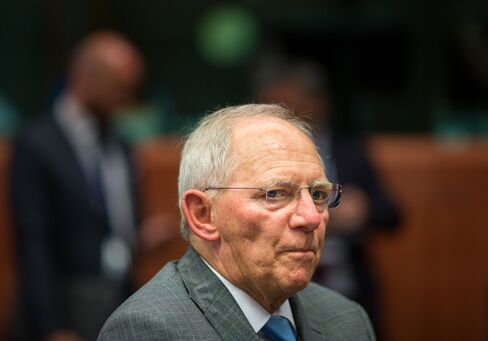 German Finance Minister Wolfgang Schaeuble raised the possibility that Greece may need a parallel currency and European officials are making contingency plans for the Greek banking system as talks on unlocking aid remain stuck.
Schaeuble mentioned the idea of parallel currencies at a recent meeting without endorsing it, according to two people who attended. The European Commission is looking at how to manage the possible failure of Greek financial firms and other events that may cause investor losses, two other people said. All asked not to be identified because the talks are private.
With Greece's final 7.2 billion-euro ($8 billion) bailout installment on hold, Prime Minister Alexis Tsipras's latest attempt to bypass finance ministers and secure a political deal failed on Friday. As Greece faces payment deadlines in the next two weeks, some European policy makers are preparing for the worst while upholding the goal of keeping Greece in the euro.
"We need to have the strongest and most complete agreement possible now to secure and facilitate talks for the next deadlines," French President Francois Hollande said Friday in Riga, Latvia, after he and German Chancellor Angela Merkel met Tsipras. Merkel said there's "a whole lot to do."
Merkel and Hollande this week gave Tsipras until the end of May to reach a deal to free up aid in return for policy changes demanded by Greece's creditor. As time runs short, his government has to pay monthly salaries and pensions by next Friday and repay about 300 million euros to the International Monetary Fund a week later.
Brussels Talks
Negotiators from Greece and its creditors are continuing technical talks in the so-called Brussels Group "over the coming days in order to accelerate progress," European Commission spokeswoman Mina Andreeva said in Brussels on Friday.
While Merkel and Schaeuble say they want to keep Greece in the 19-nation currency union, the finance minister has also said he wouldn't rule out a Greek exit.
Germany is "ready to take this brinkmanship very far," with Schaeuble in the role of "attack dog," Jacob Funk Kirkegaard, senior fellow at the Peterson Institute for International Economics in Washington, said by phone. "We're in this game of chicken. The problem is that Alexis Tsipras is riding a scooter and Wolfgang Schaeuble is driving an armored BMW."
The German Finance Ministry called the account of Schaeuble's remarks on parallel currencies "inaccurate" on Twitter, saying "this sort of scenario is not up for debate." French Finance Minister Michel Sapin told reporters in Madrid that "there is no Plan B."
Greek banks have suffered after six years of economic contraction led to an increase in non-performing loans and a 2012 debt exchange resulted in large losses. The four largest banks in Greece, including the National Bank of Greece SA and Alpha Bank AE, all received notifications from independent auditors questioning whether they can continue as going concerns, according to earnings reports.
Cash Exodus
Spokespeople for the European Commission and the National Bank of Greece declined to comment. A spokesman at Alpha Bank didn't immediately return a telephone call seeking comment.
If Greece defaults or faces a similar turning point, the Greek government might introduce capital controls right away, said Diego Valiante, a research fellow at the Centre for European Policy Studies. Yet there might not be a rush of deposits because so many funds already have left the country, he said.
"Most of the liquidity impact has already happened," Valiante said.
Before it's here, it's on the Bloomberg Terminal.
LEARN MORE