Deutsche Telekom, Telefonica Fight for German Frequency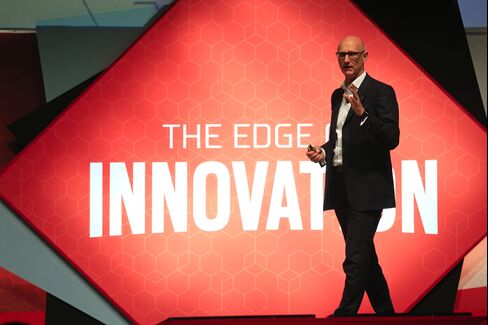 Europe's three biggest phone companies will gather in a small German town next week for a government auction of mobile frequencies that will be closely watched by regulators and carriers across the continent.
Deutsche Telekom AG, Vodafone Group Plc and Telefonica SA will bid for airwaves, including for the first time blocks of 700 megahertz band occupied by broadcasters that are important for improving mobile broadband coverage in cities. The sale starts at 1.5 billion euros ($1.7 billion) and the final outcome for all frequencies may come close to the 4.4 billion euros raised in the last auction in 2010, according to analysts at Warburg Research.
Winning additional frequency will let operators offer stronger urban coverage and better connections indoors as Germans watch more videos via the Internet, something they still do much less than the global average, according to TNS Group. For European regulators, the auction in Mainz will provide clues as to how much their own sales might fetch.
"People will definitely be looking into it with a lot of interest," said James Ratzer, an analyst at New Street Research in London. "This will be used as a benchmark."
France's telecommunications regulator has set an auction for 700 megahertz licenses for July with the government's 2015 budget forecasting proceeds of 2.1 billion euros from the sale. In other European countries, including Sweden, Finland and Denmark, governments and regulators have decided to open the band for mobile use when current broadcasting licenses expire. In Sweden, the regulator is currently studying alternatives for allocation.
Most Markets
"The 700 is a band which in principal most other European markets could create some spectrum," John Delaney, an analyst at researcher IDC, said in a phone interview.
For Vodafone, securing frequency in Germany may be more important than for its two rivals after it posted a 3.1 percent drop in revenue there last quarter. Deutsche Telekom reported a 2.8 percent increase in mobile sales and Telefonica managed a 1.5 percent improvement.
The three rivals are the only companies eligible to bid in the auction, which starts May 27 and combines relicensing of certain bands already in use as well as first-time licensing for the 700 megahertz range. The trio are likely to acquire 20 megahertz each in that band, according to Warburg estimates.
Also on sale are blocks of airwaves in the 900 megahertz, 1,800 megahertz and 1.5 gigahertz bands.
"It will be the last auction where bigger lots of 600MHz-1,000Mhz will be auctioned," said Wolfgang Specht, an analyst at Bankhaus Lampe. Operators prefer these frequencies as they offer "a good balance" between the size of mobile cell and data capacity, he said.
Separate Rooms
Representatives for Telefonica and Vodafone declined to comment on the auction when contacted by phone. A press officer for Deutsche Telekom didn't immediately respond to requests for comment.
Spectrum auctions in Germany can be protracted, as demonstrated by the 2010 sale, which lasted six weeks. Preceded by an obligatory "tutorial" with company representatives to avoid confusion during the actual auction, bidding teams will be sequestered in separate rooms for the event with little contact with the outside world and with limited access to phones and other electronic devices.
Understanding that process can be even more important than guessing what a rival will bid, according to Deutsche Telekom's Chief Executive Officer Timotheus Hoettges.
"Our experience from past years is that the regulator has more influence on auction prices than competitors as a lot depends on the auction design," Hoettges said during the company's annual shareholders meeting on Thursday.
Before it's here, it's on the Bloomberg Terminal.
LEARN MORE