Cameron Says He's 'Confident' of U.K.-EU Reform Deal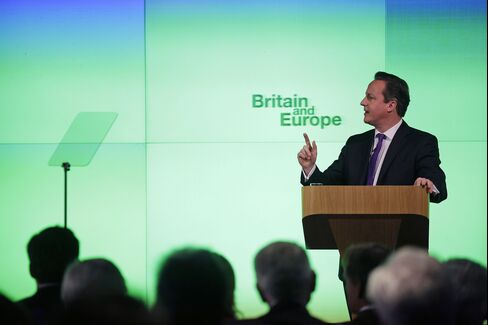 Prime Minister David Cameron said he's confident he can reach a deal on European Union reforms that satisfy his demands and those of the British people before holding a referendum on U.K. membership of the bloc.
The talks with 27 other member states "will require patience and tenacity," Cameron told reporters on Friday at a summit in the Latvian capital, Riga, after his first face-to-face meetings with EU leaders since winning an unexpected majority in the May 7 general election. He said he'll have meetings next week with EU Commission President Jean-Claude Juncker, German Chancellor Angela Merkel and French President Francois Hollande.
The election gave Cameron a mandate to hold a referendum by the end of 2017. Business leaders have warned of the consequences of leaving the bloc, and other EU governments have signaled they won't make big changes to meet his demands.
"I'm not going to say I was met with a wall of love when I arrived," Cameron said. "I'm confident, because in the end it is in everybody's interests. Britain benefits from being in a reformed European Union, but I think a reformed European Union benefits from having Britain in it."
Cameron's plans were not part of the summit agenda, which dealt with the EU's relations with six eastern neighbors, including Ukraine, Georgia and Armenia. His discussions on EU reform were conducted on the sidelines.
"There were no talks about the U.K.," Hollande told reporters as he left the summit. "This wasn't the place or the time. If there will be talks it would in a bilateral meeting since I am welcoming Cameron on the 28th."
Brief Encounters
The U.K. prime minister had bilateral meetings with leaders of Sweden, Hungary, Latvia and EU President Donald Tusk, as well as shorter conversations on the margins of the conference with Merkel and the leaders of Poland, Bulgaria and the Czech Republic. He also met with Ukrainian President Petro Poroshenko to discuss the conflict there.
Cameron approached EU leaders individually to speak about his intentions, according to one participant who declined to be further identified because the discussions were private. He brought up issues including welfare payments to migrants and parliamentary sovereignty over certain legislation, such as taxation, the participant said.
The summit was "an opportunity to start to talk to leaders about how we can reform the EU and the U.K.'s relationship with it," Cameron said. While Britain "benefits from having access to the world's largest single market," he said leaders "need to address the concerns of the British people. They are not happy with the status quo. And neither am I."
'Take Time'
Cameron has said he'd like to hold the referendum sooner than the end of 2017 if discussions make sufficient progress. On Friday, he warned talks the talks will "take time."
"Don't expect that this is all going to be wrapped up in super-quick time," he said. "There will be ups and downs: you'll hear one day this is possible and the next day something else is impossible."
Merkel's coalition also would rather Cameron brought the vote forward to next year, and France sees it as in everyone's interest that the referendum is held as soon as possible, according to an EU official. The British premier has faced push-back against his goals, with Poland saying it will block any restrictions on labor mobility within the EU and Merkel skeptical of any major treaty change.
Cameron will host Juncker at his countryside retreat, Chequers, northwest of London, on Monday, before traveling to Berlin and Paris later next week to make his case to Merkel and Hollande.
"These talks will require patience and tenacity," Cameron said. "By working together in the right spirit and sticking at it, I believe we can reform the EU and our relationship with it. And then the British people will have the final say."
Before it's here, it's on the Bloomberg Terminal.
LEARN MORE