BOJ Refrains From Boosting Stimulus After Growth Picks Up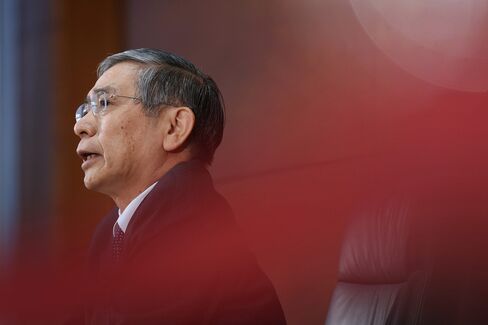 The Bank of Japan refrained from increasing monetary stimulus and signaled a more optimistic view on the economy, as Governor Haruhiko Kuroda bets on stronger growth to fuel inflation.
The central bank will continue to boost the monetary base at an annual pace of 80 trillion yen ($662 billion), it said in a statement on Friday. All of 36 economists in a Bloomberg survey forecast the outcome.
Japan is flashing mixed signals on its recovery from last year's recession, with an increase in spending by companies and households and an inventory buildup that threatens to damp the economy after its first back-to-back quarterly expansion since 2013. While the central bank stands ready to adjust policy if needed, further easing isn't required now because the trend in inflation -- now at 1/10 the BOJ's target -- remains on track for the 2 percent goal, Kuroda said.
"The BOJ is becoming more optimistic," said Kazuhiko Ogata, an economist at Credit Agricole SA. "Its slightly more upbeat assessment suggests that the chances are receding for additional easing in coming months."
The yen rose 0.2 percent to 120.76 per dollar at 4:49 p.m. in Tokyo, while the Topix index of shares rose 0.1 percent. The Japanese currency has declined about 23 percent since Kuroda introduced the record asset-purchase program in April 2013.
More Upbeat
Kuroda said he was slightly more upbeat on Japan's economy after gross domestic product data released earlier in the week and that a positive cycle remains in action.
"We raised our assessment of consumption by half or one step," Kuroda said at a press briefing.
The economy grew an annualized 2.4 percent in the first three months of 2015, as consumption climbed for a third straight quarter and companies boosted spending for the first time in a year, according to the GDP data on Wednesday.
Rising inventories -- a sign that demand isn't keeping up with supply -- gave a big boost to economic growth, according to the data. Kuroda said he didn't think there was unintended buildup in inventories and that the increase wouldn't be a big negative for the economy.
Private consumption has been resilient, the BOJ said in its statement, removing a previous qualification that "recovery in some areas has been sluggish." It said the economy has continued to recover moderately, omitting the word "trend" that it added after a sales tax was raised in April last year.
Stimulus Forecasts
Nine economists in the Bloomberg survey pushed back when they expect the central bank to increase the scale of its easing after the BOJ on April 30 delayed the timing for reaching its 2 percent inflation target. Twenty-one of the 36 economists in the survey see the central bank adding stimulus by the end of October, down from 23 in a survey last month.
Inflation expectations are rising and a gap between demand and supply will continue to tighten, helping to drive increases in consumer prices, Kuroda said on May 15.
Asahi Breweries Ltd., Burger King Japan Co. and chocolate maker Meiji Co. all announced this month that they will raise prices of their products. Eighty-nine percent of consumers in a survey by the Cabinet Office released last week expect prices to rise in the year ahead.
Still, only two of the 36 economists surveyed said the BOJ is likely to achieve its 2 percent target around the six-month period through September 2016, Kuroda's latest timeframe. When he introduced the record asset-purchase plan in April 2013, he said the goal would be reached in about two years.
The BOJ, like many other central banks, faces challenges from the tumble in oil prices in its effort to spur inflation.
The BOJ's preferred price gauge, which excludes fresh food and the impact of last year's sales-tax hike, rose 0.2 percent in March from a year earlier. Britain's inflation rate fell below zero for the first time since 1960 in April.
Before it's here, it's on the Bloomberg Terminal.
LEARN MORE