BOE's Shafik Says Weak U.K. Inflation Will Likely Be Temporary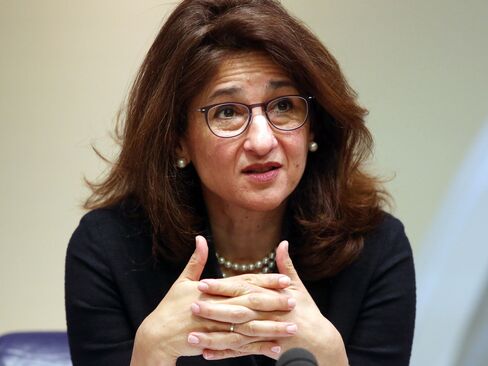 Bank of England Deputy Governor Minouche Shafik said the factors pushing down U.K. inflation are temporary and the economic headwinds hampering demand will ease over the coming years.
In a speech in Manchester on Friday, Shafik also said she expects productivity growth to pick up, which will boost potential output expansion over the long term.
"It is reasonable to expect that resumption in productivity growth to come over the next year or so as the continued narrowing of slack in the labor market raises the incentive to increase output by increasing output per worker," she said. However, "the degree of uncertainty around the timing of this is high."
Britain's inflation rate fell below zero in April for the first time since 1960, largely reflecting a drop in oil and food prices. The BOE's Monetary Policy Committee kept its main interest rate at a record low this month and Governor Mark Carney has said the inflation weakness will be short-lived with a pickup expected at the end of this year.
Shafik also said that while wage growth has been weak since the financial crisis, recent data have been "more encouraging."
"As workers become more confident over the coming years, I would expect wage growth to continue to pick up," she said. "There is already anecdotal evidence that the tightening labor market has made recruitment and retention concerns a source of upward pressure on labor costs."
'Undesirable Outcome'
The BOE aims to get inflation back to its 2 percent target within two years, and Shafik said the most important determinant of that is domestically generated inflation.
"Were the recovery in wage growth not to materialize and inflation to linger far below the 2 percent target for longer than currently embodied in the MPC's forecast, it would be a very undesirable outcome," Shafik said. "The MPC has underlined its commitment to avoiding such an outcome."
The deputy governor said it would be "overly pessimistic" to think the headwinds currently affecting the economy will persist for decades. "Although they will be persistent, they will not be permanent. Indeed there are now nascent signs that some of these headwinds have already begun to ease."
Before it's here, it's on the Bloomberg Terminal.
LEARN MORE