Bank of England Accidentally E-mails Brexit Plans to The Guardian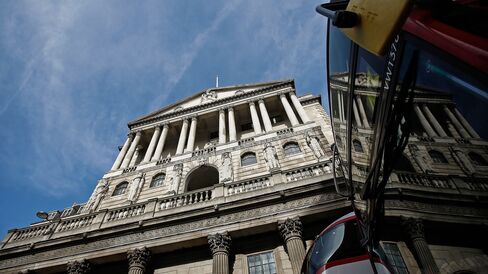 Bank of England staff are assessing the potential risks related to Britain's renegotiation of its European Union membership and the threat of the country leaving the bloc.
"There are a range of economic and financial issues that arise in the context" of the U.K.'s planned referendum on the EU, the BOE said on Friday. It made the comments in a statement issued after an internal BOE e-mail about the plans was accidentally sent to the Guardian newspaper. The work is known as "Project Bookend," according to the newspaper, which said it's being managed by Deputy Governor Jon Cunliffe.
Prime Minister David Cameron is planning a public vote on EU membership by the end of 2017, and the BOE's error may drag Governor Mark Carney into the political debate. The central bank also worked on contingency plans prior to last year's Scottish independence referendum, and while details were only revealed afterwards, some campaigners latched onto comments made by Carney in advance to support their case.
After the Scotland vote and the BOE's subsequent release of details of its potential emergency measures, it said that "careful communications" were required to maintain political independence and "avoid inadvertently triggering the very risks the contingency planning was designed to mitigate."
Risk Assessment
In Friday's statement, the BOE said it "should not come as a surprise" that it's undertaking work in relation to the EU vote and that it has a responsibility to assess risks. According to the e-mail sent to the Guardian, a "small number" of BOE staff, including James Talbot, the head of its Monetary Assessments and Strategy Division, will examine the implications of Britain leaving the EU, under the authority of Cunliffe.
"It is not sensible to talk about this work publicly, in advance," the BOE said. "But as with work done prior to the Scottish referendum, we will disclose the details of such work at the appropriate time."
Britain sends almost half its exports of goods and services to the EU -- 227 billion pounds ($351 billion) last year -- and foreign companies operating in the U.K. gain tariff-free access to a market of 500 million people in 28 countries.
Concern surrounding the vote could damp business investment, a majority of economists said in a Bloomberg survey published Friday. Cameron said he's confident he can reach a deal on EU reforms that satisfy his demands and those of the British people before holding the referendum.
The talks with other member states "will require patience and tenacity," he told reporters at a summit in the Latvian capital, Riga, after his first face-to-face meetings with EU leaders since winning a majority in the May 7 general election.
Before it's here, it's on the Bloomberg Terminal.
LEARN MORE