American Apparel Seeks to Bar Charney From Disrupting Chain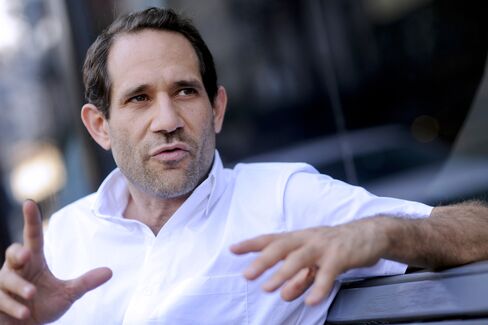 American Apparel Inc. asked a judge to bar the chief executive officer it fired last year from disrupting the retailer's turnaround efforts by seeking current directors' removal or disparaging the company.
After being ousted as the company's top executive in December, Dov Charney violated an agreement by backing lawsuits aimed restoring him to control and repeatedly attacking the clothing chain's management in the press, American Apparel said in a Delaware Chancery Court filing Thursday.
"The company cannot and should not be in the business of constantly responding to Mr. Charney's disruption, disparagement and lawsuits, much less any takeover attempt," the company said in its request for a temporary restraining order.
The filing is the latest salvo in the legal battle over Los Angeles-based American Apparel, which has laid off workers as it seeks to stem years of losses. The retailer has lost more than more than $300 million since 2010, according to data compiled by Bloomberg.
American Apparel's board suspended Charney in June for alleged financial and sexual misconduct. The clothing retailer ultimately fired him, and he has since pushed to return to the helm of the company he founded. Charney sued American Apparel and investor Standard General this month for defamation over his ouster.
'Scorched Earth'
Keith Fink, Charney's lawyer, didn't immediately respond to phone and e-mail messages seeking comment on the request for a restraining order.
American Apparel sued Charney earlier this week in Delaware accusing him of violating a so-called standstill agreement by undertaking a "scorched-earth campaign" to win back control of the company he founded in 1998.
The legal battle also includes shareholder suits from former employees claiming the board committed proxy fraud when ousting Charney for refusing to go along with a plan to sell the retailer. American Apparel has called the claims in that case "completely baseless."
Charney's campaign has featured interference with American Apparel's operations, criticism of the company's management in the press and threats against employees who oppose his return.
American Apparel asked Delaware Chancery Court Chief Judge Andre Bouchard to order Charney to refrain from "taking any direct or indirect action seeking to remove the company's directors" or slamming the retailer in the press, according to the court filing.
The case is American Apparel Inc. v. Charney, CA No. 11033, Delaware Chancery Court (Wilmington).
Before it's here, it's on the Bloomberg Terminal.
LEARN MORE