When to Unscrew the Light Bulbs Is Arenas' Cost-Cutting Question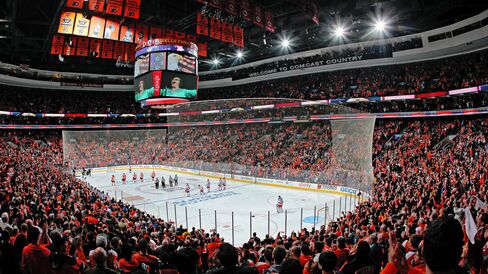 Sports-venue operators should be patient when considering whether to invest hundreds of thousands of dollars upgrading to LED lighting. Today's purchase might be outdated by December.
As consumers consider buying long-lasting yet pricey bulbs with light-emitting diodes, sports facilities operators are facing similar decisions. LED is cheaper in the long run, while providing more manageable light than its decades-old predecessor.
Philadelphia's Wells Fargo Center, home of basketball's 76ers and hockey's Flyers, switched to LED this season, spending $473,000 on a system that it expects to cut energy bills by $144,000 a year. While just eight other venues used by the four major U.S. sports leagues use LED, all future ones will, according to National Basketball Association lighting guru Steve Hellmuth. As for swapping out well-working older systems knowing operators will at some point recoup the investment, Hellmuth's advice is not to rush.
"They're literally improving their fixtures every six months, so I wouldn't urge anybody to jump," said Hellmuth, who's overseen lighting for almost 20 years as NBA Entertainment's executive vice president of operations and technology.
Seeking a better understanding of the evolving technology, the NBA and National Hockey League last month invited 10 LED companies to exhibit their products at the Prudential Center in Newark, New Jersey.
Orange Sweater
Hellmuth, a Princeton University graduate, said he drew chuckles when he wore the same zip-up orange sweater for all three days of the exhibition, allowing him to compare how true the color was when lit by different products.
"My sweater wasn't always orange," he said.
Major League Baseball's Safeco Field in Seattle this season become MLB's first lit with LED, and other ballparks are deciding whether to replace bulbs in their older systems, which is done every three to five years, or make the switch to LED.
"The Mariners told us their LED will have a 30-year shelf life," said Paul Hanlon, Major League Baseball's director of facility operations.
Light Warmth
A feature of newer LED systems that wasn't available when the Wells Fargo Center made the switch just last year is the ability to adjust light warmth, something the NBA will regulate in its arenas after it releases standards next month.
"Basketball innately wants to be played in a warmer environment because warmer lighting, which to some looks more orange, makes the wood pop," said Mike Lorenz, president of Syracuse, New York-based Ephesus Lighting. "Hockey and football want a cooler light because the colors contrast better."
Matt Homan, Wells Fargo Center's general manager, said he has no regrets over switching when he did to an LED system installed by Oskaloosa, Iowa-based Musco Sports Lighting LLC.
"We just felt it was an opportune time for us to do it and work on getting that payback," Homan said in a phone interview. "It's like buying a TV. If you buy a TV today there's going to be a better one out in two months."
Arena Rebate
In addition to the energy savings, the Wells Fargo Center will get a $30,000 rebate through the state of Pennsylvania and a program from PECO, the local power company, set up to reduce the load on the overall electrical grid, Homan said. It also will save an additional $100,000 in maintenance over the next decade, he said. The building is owned by Comcast Spectacor, which owns the Flyers.
Portland's almost-20-year-old Moda Center, home of the NBA's Trail Blazers, might be switching to LED this year, according to Chris Oxley, general manager of the Rose Quarter entertainment district that includes the arena.
"We've got to make sure we're future-proofing as best we can and serving all of our clientele," Oxley said in a phone interview. "The evolution of technology seems almost instantaneous."
The University of Phoenix Stadium in Glendale, Arizona, host of the most recent Super Bowl, is LED, and can switch the lights on instantly. That enabled Katy Perry's halftime show to run longer than previous ones, said Lorenz, whose company did the installation in 2014.
Musco will light about 2,500 sports venues this year -- from youth fields to the newly roofed Arthur Ashe Stadium at the National Tennis Center in New York, to Arsenal soccer's Emirates Stadium in London -- all in LED.
Jeff Rogers, Musco's vice president of sales, agreed that the core technology of LED is rapidly becoming more efficient and that retro-fitting of current systems only makes sense after weighing many variables.
"Is it saving energy? Is it a better fan experience? Is it a better broadcast?" Rogers said. "You have to really study that before giving a yes or no answer."
Before it's here, it's on the Bloomberg Terminal.
LEARN MORE