Ukraine Bonds Rise as BlackRock Says Don't Dismiss Principal Cut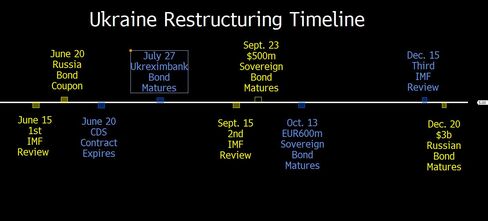 Ukrainian bonds rose for a second day as investors bet a government threat to halt debt payments may accelerate an agreement with creditors and BlackRock Inc. said bondholders shouldn't exclude a cut in principal.
The nation's $2.6 billion of bonds due July 2017 rose 0.25 cent to 46.09 cents on the dollar by 6:25 p.m. in Kiev after rising 0.91 cent on Wednesday. The notes fell 1.36 cents on Tuesday, the most in two months, as lawmakers gave the government in Kiev power to impose a moratorium on meeting some external debt obligations.
Ukraine has been pushing bondholders to accept a principal writedown as it seeks to wrap up a $23 billion restructuring deal by June 15 to unlock the next tranche of a $17.5 billion International Monetary Fund loan. While a creditor group holding $8.9 billion of debt had put forward a proposal that avoids a so-called haircut, BlackRock, which is not part of the group, said there are other solutions to consider for the country reeling from a yearlong conflict with pro-Russian separatists.
"Help the country, deal with it and then start with a blank page," Sergio Trigo Paz, the head of emerging-markets fixed income at BlackRock, told reporters in London. "The country needs to restructure its debt once and for all, rather than a soft restructuring that would bring the country back to talks next year."
BlackRock is the second-largest owner of Ukraine's benchmark July 2017 note after Franklin Templeton, according to data compiled by Bloomberg that doesn't include hedge-fund holdings.
Restructuring Needed
Restructuring is needed to restore fiscal sustainability and cover external financing needs, the IMF said in an e-mailed statement on Thursday. Talks between Ukrainian authorities and bondholders need to proceed quickly, it said.
Finance Minister Natalie Jaresko said on Tuesday that the moratorium provides leverage in negotiations and will only be used if a deal isn't completed on time.
"The Finance Ministry bringing the D-word into the negotiations could break the gridlock," Vitaliy Sivach, a Kiev-based bond trader at Investment Capital Ukraine, said by e-mail, referring to default. The likelihood of a positive outcome that avoids outright default has increased, he said.
Ukraine has a $33 million coupon payment coming due Thursday on a $1 billion note set to mature in November 2016, according to data compiled by Bloomberg. Russian Finance Minister Anton Siluanov threatened on Wednesday to take the nation to court if it misses a June 20 interest payment on a Eurobond it bought from the regime of former President Viktor Yanukovych before he was overthrown in February 2014.
Coupon Payment
Ukrainian Railways made a coupon payment today on a dollar-denominated bond maturing in 2018, that is subject to the restructuring negotiations, "despite the difficult economic situation," the company said in an e-mailed statement. The state-owned rail operator's dollar bonds maturing May 2018 rose 1.21 cents to 56.87 cents on the dollar after the announcement.
Bond prices in the high 40s are too optimistically priced as they imply no haircuts, low yields and a smooth restructuring process, London-based analysts at JPMorgan Chase & Co., including Nicolaie Alexandru-Chidesciuc, said in an e-mailed report on Thursday. The moratorium bill is a sign the restructuring process is "finally" moving forward, they said.
Ukraine should reach an agreement with creditors to avoid peaks of debt payments, the Interfax news agency reported, citing an unnamed European Commission official.
"From a game-theoretical perspective, Ukraine is in a stronger position to negotiate than the bondholders," analysts at Citigroup Inc., including Moscow-based Ivan Tchakarov, said in an e-mailed report on Thursday. "This ultimately argues for a collaborative solution that involves no default, but with some principal haircut."
Before it's here, it's on the Bloomberg Terminal.
LEARN MORE