Swiss Target Postwar Accounts After Paying Holocaust Victims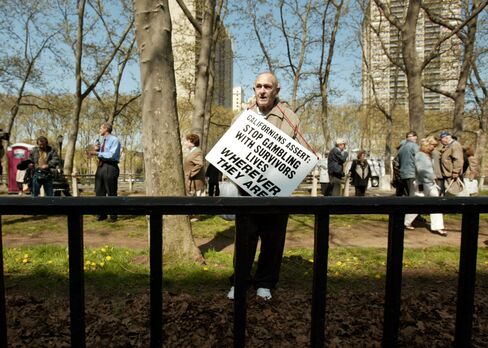 Three years after a tribunal returned $720 million from Swiss bank accounts to Holocaust victims and their families, Switzerland's financial institutions are tackling the backlog of thousands more postwar dormant accounts.
The Swiss Bankers Association is building a website that will publish details including names and birth dates for holders of deposits left untouched for 60 years or more -- starting with 1955. Until a change of legislation on Jan. 1, that would have violated Swiss laws on banking secrecy.
Christoph Winzeler of the SBA said it's the best way to tackle the backlog without the risk of breaking the law -- even if it's a race against time.
"Of course the best chance to find lost customers is as soon as possible after you've lost accounts, not after 60 years, but this represents another chance," Winzeler, who heads the SBA's financial law division, said in an interview. The site is a joint effort of the SBA, banks and SIX Securities Services, the operator of the main Swiss stock exchange.
Switzerland's banks are under pressure to increase transparency in the wake of reports HSBC Holdings Plc's Swiss unit allegedly helped clients launder money, and other local banks' admissions of wrongdoing. Until the January legislation, Swiss banks risked violating secrecy laws if they published details on customers, even if they hadn't heard from them for decades.
$719.7 Million
Since the Claims Resolution Tribunal was set up in 1997 to help Holocaust victims and their relatives reclaim assets stored in Switzerland, UBS Group AG and Credit Suisse Group AG have paid out $719.7 million to about 18,000 account holders and their heirs. That tribunal closed at the end of 2012.
Edward Korman, the U.S. judge who established the tribunal, said Swiss laws that kept account data confidential were out-of-step with modern times.
"Why so long after this period is there an interest in keeping this a secret?" Korman said in a telephone interview from New York. "By waiting this long before going back to 1955, I don't know what they're going to have left."
There are "a few thousand" dormant accounts from before 1955 that the SBA is studying and will begin to release information on, said Sindy Schmiegel, a spokeswoman for the association. They do not have particular ties to the Nazi period and many are simply cases of the elderly forgetting to tell their children about the money, she said.
The SBA does not have an estimate for how much is in the accounts. The new website is scheduled to be operational later this year. Spokespeople for UBS and Credit Suisse declined to comment and referred questions back to the banking association.
Eastern Europeans
While it's hard to speculate who may be behind the deposits and how much money is in them, eastern Europeans whose assets faced seizure by communist governments may be one group affected, said Jonathan Steinberg, a history professor and author of "Deutsche Bank and its Gold Transactions During the Second World War." Israelis who weren't allowed to have foreign accounts, fascists who fled to South America and Italians who wanted to hide money from the taxman during the country's postwar miracolo economico, may also have forgotten cash squirreled away in Switzerland.
Holocaust survivors and their heirs continue to fight elsewhere to recoup money from dormant accounts, including in Israel. A 150-million shekel ($39 million) lawsuit was filed last month against Bank Leumi Le-Israel Ltd. alleging the lender returned only a fraction of the value of deposits made before 1939, with what was then called Anglo Palestine Co. The bank said it will challenge the claims in court.
An account is considered dormant in Switzerland after 10 years of inactivity. Accounts in the U.S. typically become dormant after three to five years. The proceeds are then returned to the government unless or until a claim is made for them under so-called escheat law. Swiss banks don't have to turn the money over to the government for 60 years.
"That creates every incentive to stonewall and hold on to the money," he said.
Before it's here, it's on the Bloomberg Terminal.
LEARN MORE