Russia Says Reserves Ward Off 'Stigma' of International Funding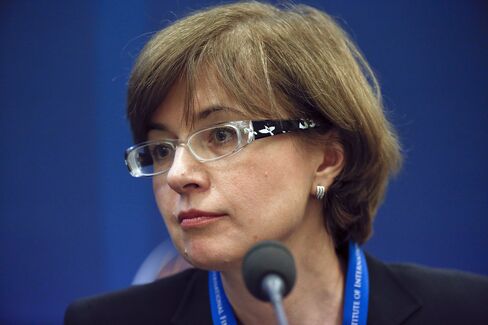 Emerging economies are using foreign-currency reserves to reduce their reliance on international organizations and shed the "stigma" that comes with their aid, according to the Bank of Russia.
"Many countries prefer to have their own buffers rather than relying on some international safety net," central bank First Deputy Governor Ksenia Yudaeva said on Thursday in the Kazakh capital, Astana. "That's probably why we observe this behavior on behalf of the emerging markets as well."
Developing countries, which hold about two-thirds of the $11.6 trillion in global reserves, have seen a drop in their holdings last year as central banks sold dollars to offset capital outflows and shore up their currencies. The Bank of Russia, which spent almost $90 billion in 2014 to arrest a run on the ruble, started buying foreign exchange to rebuild its stockpile this month after an almost yearlong hiatus.
Yudaeva said emerging economies are reacting to the lack of a "global safety net" and turning away from the "stigma" of financing secured from institutions such as the International Monetary Fund. Russia has shunned assistance from the IMF and the World Bank since the government defaulted on $40 billion of domestic debt in 1998.
The Bank of Russia shifted to a free-floating exchange rate ahead of schedule in November as President Vladimir Putin said the country won't "mindlessly burn up" reserves to defend its currency.
The ruble has recouped losses this year after a crash in oil prices and sanctions over Ukraine stoked its worst crisis in 16 years. It's the world's best performer globally against the dollar with a 22 percent gain after losing almost half of its value in 2014. The Russian currency traded 0.4 percent weaker at 49.9180 to the dollar as of 4:38 p.m. in Moscow.
"There are all kinds of risks that emerging markets could potentially face," Yudaeva said, mentioning the volatility of oil prices and monetary-policy shifts in advanced economies. "That's why emerging markets are concerned and they are building up reserves in order to be able to decrease the effect of potential risks."
Before it's here, it's on the Bloomberg Terminal.
LEARN MORE