Royal Mail Feels Pinch From Faster Roll-Out of Amazon Deliveries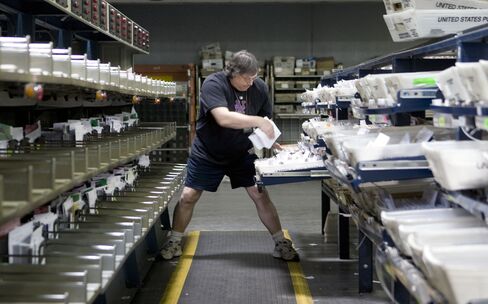 Royal Mail Plc, the U.K. postal service that listed in London in 2013, said it's getting squeezed by Amazon.com Inc. accelerating the expansion of a rival delivery network, making it tougher to tap the growing parcels market.
Royal Mail's ability to win business depends on the "speed and extent" of Amazon's roll-out, Chief Executive Officer Moya Greene said Thursday after announcing earnings. She reiterated that while parcel volumes are increasing at a 4 percent annual rate, growth in markets that her company can access will be limited to 1 to 2 percent, with prices under pressure.
"Amazon is a big retailer and it's also now a serious delivery competitor," Greene said in a telephone interview. "It has its own network and it has rolled out that network pretty quickly. There aren't going to be as many parcels for the industry to vie for."
Royal Mail's operating profit excluding reorganization costs increased 6 percent to 740 million pounds ($1.15 billion) in the year ended March 29, the company said in a statement. Greene said market conditions will remain tough this fiscal year, with letter volumes -- the mainstay of the company's business for the bulk of its 500-year history -- continuing their decline at a 4 to 6 percent annual pace and margins at European arm GLS crimped by subcontractor costs in Germany.
Clothing, Toys
Shares of Royal Mail fell as much as 2.6 percent and were trading 2.9 pence, or 0.6 percent, lower at 497 pence as of 11:01 a.m. in London, paring gains this year to 16 percent and valuing the company at 4.98 billion pounds.
Royal Mail will be "fortunate" if Amazon's in-house delivery system restricts growth in attainable parcels volumes to 2 percent, Greene said, adding: "Maybe more importantly, this is going to continue to put pressure on pricing."
The fastest-expanding markets are likely to be clothing, toys and sporting goods, Royal Mail said.
The company, mandated to sustain a network delivering to every U.K. household is also being undercut by smaller delivery companies able to pick and choose services connecting with Royal Mail's network.
Pressure eased with last year's collapse of City Link Ltd., which spurred volumes, and the suspension of PostNL NV's Whistl letter service may also benefit the business, though could inflate operating costs. Royal Mail stock gained 3.9 percent on May 11 when Whistle ceased deliveries.
Royal Mail has closed 30 of 69 mail centers and reduced its headcount to 130,100 from 158,900 over the past seven years, though U.K. operating costs excluding reorganization costs fell only 1 percent last year and Greene today promised "to step up the pace of change to drive efficiency."
Before it's here, it's on the Bloomberg Terminal.
LEARN MORE