Raiffeisen Profit Halves on Ukraine and Russia Currencies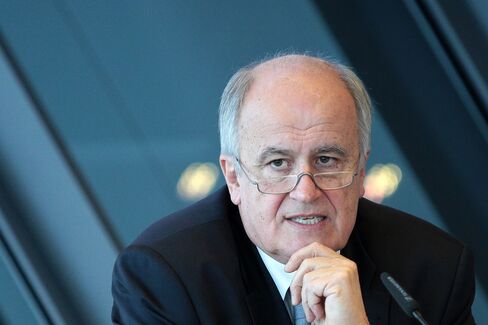 Raiffeisen Bank International AG, the second-biggest lender in eastern Europe, suffered a setback in its plan to boost risk buffers as profit halved due to currency movements in Ukraine and Russia. The shares dropped.
Net income in the first quarter fell to 83 million euros ($92 million) from 161 million euros a year earlier, the Vienna-based bank said in a statement on Thursday. Trading losses on the Ukrainian hryvnia and on a Russian ruble hedge contributed to the drop. The rise of the ruble, Swiss franc and dollar boosted assets, undermining plans to shrink businesses.
"Even if I factor in the first-quarter profit, the capital ratio stayed flat as the net profit was absorbed by the increase in risk-weighted assets," said Eleni Papoula, an analyst at Berenberg Bank who rates Raiffeisen hold. "The first-quarter increase in RWA takes Raiffeisen further away from its target."
Raiffeisen plans to shrink by a fifth to increase its capital buffers after an escalating conflict between Ukraine and Russia pushed it into its first-ever annual loss in 2014. To avoid selling new shares, the lender is seeking a buyer for its Polish bank, the most recent acquisition, while scaling back units including its biggest profit generator, Russia's ZAO Raiffeisenbank.
'Market Disappointed'
RWAs grew 7 percent to 73.5 billion euros in the quarter, also driven by regulatory effects, widening the distance to Raiffeisen's target of 65 billion euros. That resulted in the ratio of core equity Tier 1 capital, a gauge of financial strength, falling to 9.9 percent from 10 percent. Raiffeisen has pledged to reach 12 percent by the end of 2017.
"We believe the market will be disappointed with this, given the focus on the capital rebuild," said Cristina Marzea and Ivan Bokhmat, analysts at Barclays Plc with an equal-weight recommendation on the shares. "There will be close scrutiny on quarterly delivery."
Raiffeisen dropped as much as 2.6 percent, the biggest decline since April 28, and were down 2.1 percent at 14.96 euros by 11:10 a.m. in Vienna. The shares, which have gained about 20 percent this year, were among the worst performers in the Euro Stoxx Banks Index, which fell 0.5 percent.
"Our operative business developed in line with our expectations," Chief Executive Officer Karl Sevelda said in a statement. "The first months of this year, however, were driven by an extraordinary high currency volatility. In particular, the development of Swiss franc, ruble, hryvnia, and U.S. dollar had a strong impact on our results."
The bank reiterated it may have a full-year loss on restructuring costs.
Bad Loans
Net interest income, the bank's biggest revenue source, fell 16 percent to 820 million euros, due to the currency effects and to low interest rates, missing the average analyst estimate of 844 million euros.
While provisions for bad loans dropped 7 percent to 260 million euros in the first quarter, Raiffeisen warned they will be higher in the second half of the year. The share of bad loans grew to 11.9 percent from 11.3 percent at the end of last year. In war-torn Ukraine, more than half of Raiffeisen's loan book is overdue. In Asia, where the bank serves select corporate clients, the rate is at 27 percent.
Raiffeisen said its asset sale plans are on track. Talks with interested parties are being held in Slovenia. Due diligence started on Poland's Raiffeisen Bank Polska, the biggest asset it wants to divest. The Polish sale has been hampered by demands from the Polish regulator KNF.
"There are still many regulatory hurdles relating to the sale of the Polish business," Berenberg's Papoula said. "The Polish regulator may demand an initial public offering before the sale which may affect valuation and delay the process."
Before it's here, it's on the Bloomberg Terminal.
LEARN MORE