Polaris Steers for White Space With Snow Bikes
What a dirt bike on skis means for a motorsports manufacturing giant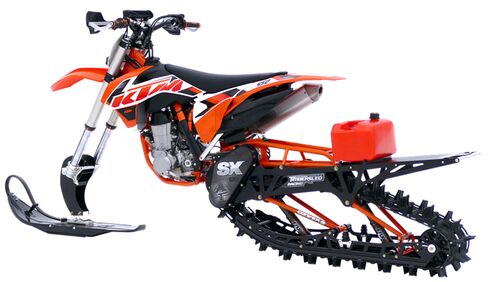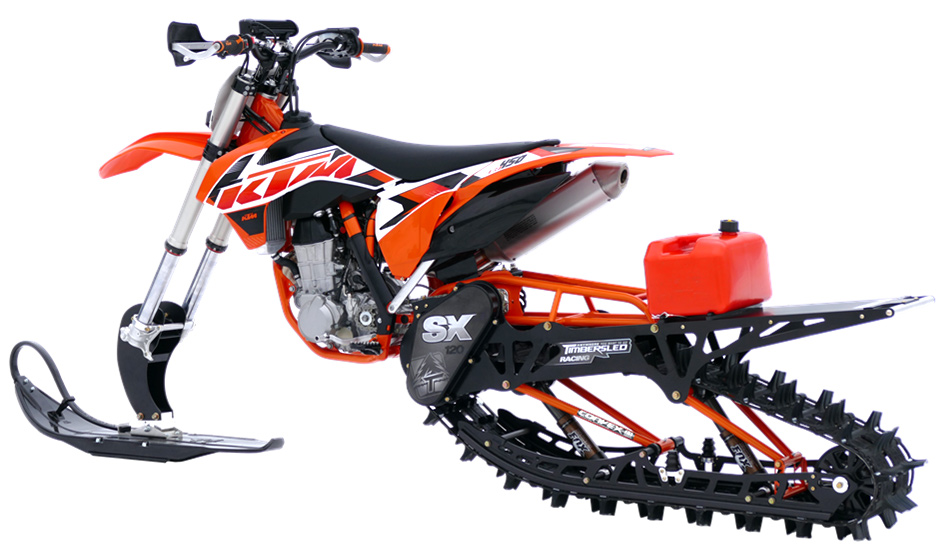 Polaris Industries has built an empire (and an impressive stock market run) on cool and quirky machines—motorcycles, snowmobiles, and all-terrain vehicles. Its newest toy is particularly strange: the snow bike.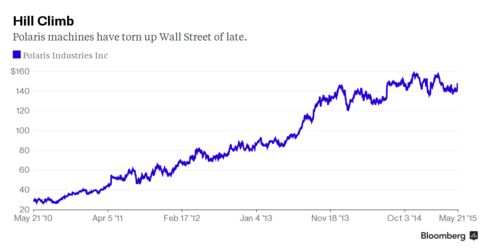 Picture a dirt bike with a ski in the place of a front wheel and a snowmobile tread instead of a rear wheel. A small crew of people in northwern Idaho has been perfecting the weird winter whip, and Polaris just bought their business, Timbersled. Essentially, Timbersled sells kits that converts the lower half of a traditional dirt bike into something that can porpoise through deep powder. Its bestseller, the "Mountain Horse," costs about $5,300.
https://www.youtube.com/watch?v=PYCT-qWZz44
"This is what we do," Scott Wine, chief executive of Polaris, said in explaining the acquisition. "We are a growth company, and you can't grow if you don't introduce new products."
To be sure, the snow bike is a staggeringly narrow niche—a niche of a niche, in fact. Timbersled has only 50 workers, and Wine said the purchase price was "a rounding error." He estimates the number of snow bikers is still only a few thousand. In short, snow bikes could well turn out to be the Rollerblade or monoski of the motorsports business. Polaris, however, thinks it can steer the machines into the mainstream. For one thing, it has enough manufacturing, distribution, and marketing clout to drive the brand much farther than Timbersled might have otherwise. Secondly, the bikes are apparently quite fun.
"It is thrilling to ride," Wine said. "We will sell tens of thousands of Timbersleds at some point, but we really want to bring in a lot more of those off-road motorcycle riders that don't have the money to get into snowmobiling."
It's difficult to overestimate the fun factor in the Polaris business model. Its products sit almost entirely in the "discretionary" category. Few people need a snowmobile or a massive cruising motorcycle such as the Indian Chieftan, but Polaris sells plenty of both.
Its latest consumer coup is the Slingshot, a low-slung, three-wheel motorcycle that looks like a cross between the Batmobile and a go-kart. It doesn't offer the quiet and safety of a car, nor is it as liberating as a traditional motorcycle, but consumers don't seem to care. Wine said Slingshot sales have far exceeded expectations in the few months that it has been on the market.
The company expects the three-wheeler to account for 20 percent of its motorcycle revenue this year. At 2014 levels, that would be $70 million, a sum Polaris essentially created with some tinkering and extremely experimental R&D. It didn't have to wrest the money from Harley-Davidson or some other competitor; the most difficult part for Slingshot engineers was getting a green light from Wine and the rest of the executive team.
Maybe next year, we'll see a Slingshot with skis.
Before it's here, it's on the Bloomberg Terminal.
LEARN MORE