Najib Outlines Malaysian Growth Path Amid Mahathir's Attacks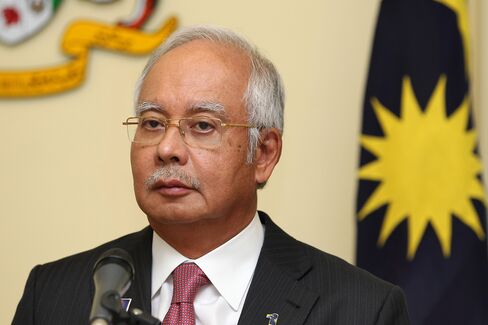 Malaysian Prime Minister Najib Razak laid out his strategies to boost growth through 2020, seeking to re-instill confidence in his management of the economy after months of attacks from former leader Mahathir Mohamad.
The government will focus on creating a larger pool of high-skilled workers and improve productivity to increase investment, according to a development plan presented by Najib in Parliament Thursday. It will allocate 260 billion ringgit ($72 billion) for development expenditure from 2016 to 2020, including funds to increase power capacity, the report known as the 11th Malaysia Plan showed.
The plan is Malaysia's final five-year strategy before its target to become a high-income nation by 2020, a vision conceptualized more than two decades ago when Mahathir was premier. Najib has seen his approval rating slide to about 40 percent as he undertakes unpopular economic measures to plug a budget gap, and as rising debt at a state investment company threatens the nation's credit rating.
The plan "provides a crucial platform to ensure that Malaysia completes the transition to an advanced economy and inclusive nation," Najib said. The government has set out strategies "to break the country out of 'business as usual' practices and set Malaysia on an accelerated growth trajectory," he said.
10th Plan
During the 10th Malaysia Plan, the government embarked on further liberalization of the services sector, and started on projects such as a new mass transit system and financial district in Kuala Lumpur. The country has risen to 18th position in the World Bank's index of ease of doing business.
"The Eleventh Plan emphasizes on re-engineering economic growth to enhance socio-economic development," the report said. "The continued focus on knowledge-intensive sectors and high value-added activities will allow Malaysia to further capture growth opportunities and attract quality investments."
The Malaysian economy is forecast to grow 4.5 percent to 5.5 percent this year, down from an earlier projection of as much as 6 percent. The government trimmed expectations as it cut expenditure amid lower than expected revenue from oil.
The administration is targeting 5 percent to 6 percent growth annually from 2016 to 2020, it said Thursday. It projects gross domestic product of 1.4 trillion ringgit in 2020 and 2.6 trillion ringgit in 2030.
Getting Closer
Malaysia is getting closer to its goal of becoming a high-income nation as gross national income per capita climbed to $10,426 in 2014. A nation is considered high income that measure meets or exceeds $12,746, according to the World Bank.
Mahathir, who was prime minister from 1981 to 2003, was reported as saying last month he doubts Malaysia will be a developed country in just over five years. He said he should have been clearer on what it means to be developed when he set out the 30-year economic plan known as Vision 2020 instead of just achieving the required per capita levels.
Najib, 61, has brushed off calls from Mahathir for him to step down over alleged mismanagement of the economy and the performance of 1Malaysia Development Bhd., whose advisory board he chairs. The state investment company borrowings had reached 41.9 billion ringgit through March 2014 and flirted with default early this year.
Contingent Liabilities
Malaysia's fundamental picture remains clouded in part by the build up of "contingent liabilities" for the government related to 1MDB, Andrew Colquhoun, Fitch's head of Asia Pacific sovereign ratings, said in an interview May 7.
Najib seeks a balanced budget by 2020 from a deficit target of 3.2 percent this year. His administration started a 6 percent goods and services tax in April, and has abolished subsidies on sugar and petrol to rein in spending. Government debt as a percentage of GDP is estimated to fall to 43.5 percent in 2020 from 53.3 percent in 2015, the report showed.
The introduction of the GST will generate about an average 31.4 billion ringgit in revenue annually between 2016 and 2020, according to the report. The government will review dividends received from government-linked companies and take measures to reduce leakages at its tax and customs departments to improve its fiscal position.
A plunge in crude oil prices has contributed to the ringgit's slump of about 11 percent against the U.S. dollar in the past year. Officials have sought to downplay the importance of energy exports to the economy, and the government said Thursday it targets to reduce dependence on oil-related revenue to 15.5 percent by 2020 from 21.5 percent this year.
Female Workforce
The 11th Malaysia Plan targets increasing the share of skilled workers to 35 percent of the labor force in 2020 from 28 percent now. It seeks a female labor participation rate of 59 percent from 54.5 percent in 2015.
Najib has offered tax incentives to companies that establish nurseries and allow flexible work arrangements to encourage more women to resume their careers after leaving to raise their families. Malaysia's female workforce participation rate is among Southeast Asia's lowest.
Transport and logistics will be a crucial driver of growth with about 75 percent of the population seen residing in urban areas by the end of the decade, the report showed. The country will spend 28 billion ringgit to add 7,626 megawatts of power capacity including three coal-fired and two gas-powered plants.
Other projects highlighted in the 11th Malaysia Plan include a high-speed rail link connecting Kuala Lumpur to neighbor Singapore, more subway projects around the capital and the construction of the Pan-Borneo Highway between the Malaysian states of Sabah and Sarawak.
"Development spending is probably higher than anticipated," said Patricia Oh, an economist at AMMB Holdings Bhd. "That could be in tandem with spearheading or to support growth on the back of the weaker external demand factor."
Before it's here, it's on the Bloomberg Terminal.
LEARN MORE