London's most expensive boroughs for housing are failing to secure construction of affordable homes even as the number of luxury developments surges.
Low-cost properties accounted for 28 out of every 100 homes started in Westminster, Camden and Kensington & Chelsea last year, according to property magazine Estates Gazette. That's down from 70 for every 100 in 2011, the highest proportion in five years.
Much of the U.K.'s affordable housing is funded by private developers through levies paid in return for planning permits. The number of social and low-cost homes completed in England fell by almost 30 percent in 2014 from three years earlier as Chancellor of the Exchequer George Osborne cut spending on housing.
"The Conservative-led government slashed the affordable housing subsidy by 60 percent, causing developers to cite viability as a reason they couldn't build those homes," said Nadia Elghamry, data editor at Estates Gazette. "The theory was that cash contributions paid by developers, rather than physically building homes on site, should have plugged this gap. They have not."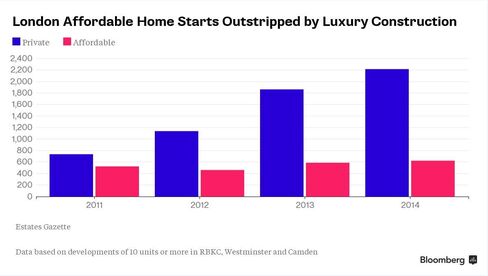 Homebuilders targeted the wealthiest buyers when London's residential property market revived after the financial crisis. Values in Knightsbridge, part of Kensington & Chelsea, surged more than 46 percent since the 2010 national election, according to broker Knight Frank LLP.
Construction Starts
Officials at the offices of Westminster and Camden councils didn't respond to e-mails and phone calls seeking comment. A spokeswoman for Kensington & Chelsea declined to comment.
The number of private homes that started construction in the three boroughs in 2014 more than trebled to 2,219 from three years earlier, the Estates Gazette data shows. The number of affordable homes rose less than 20 percent to 625 in the same period.
Developers can pay levies to avoid building the low-cost homes, although the growth in the payments hasn't matched the increase in building, the data shows. The boroughs received 134 million pounds in 2014, compared with 111 million pounds in 2011.
Islington and Camden borough councils this week sought a judicial review of London Mayor Boris Johnson's decision to approve a 681-home development at Royal Mail Group Plc's Mount Pleasant land plot. At least 42 percent of the homes should be affordable instead of the 24 percent approved by Johnson, the councils said in a statement.
Before it's here, it's on the Bloomberg Terminal.
LEARN MORE