Hensarling Subpoenas Federal Reserve for 2012 Leak Documents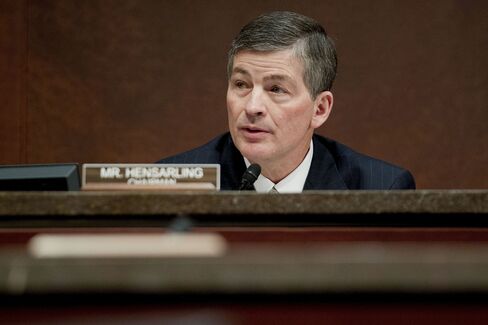 U.S. House Financial Services Committee Chairman Jeb Hensarling subpoenaed the Federal Reserve seeking documents related to a 2012 information leak involving the central bank.
The subpoena is necessary because the Fed has failed to comply with a request for documents, Hensarling, a Texas Republican, said in a statement Thursday.
"The Federal Reserve has acted in a manner that can only be characterized as resistant to accountability and oversight," Hensarling said.
Hensarling and Representative Sean Duffy, a Wisconsin Republican and chairman of the Subcommittee on Oversight and Investigations, are conducting their own inquiry into the leak following what they called an "inadequate" internal probe at the Fed. The Justice Department is also investigating the incident.
"The Board's Inspector General and the Department of Justice are investigating this matter," Federal Reserve spokesman David Skidmore said in an e-mail. "We have provided the committee with information regarding a potential breach in 2012 of Federal Reserve policies protecting confidential information," he said.
Maxine Waters, a California lawmaker who is the top Democrat on the Financial Services panel, said Hensarling's strategy may hamper the Fed's own investigation.
'Chilling Effect'
"The politicization of these leaks by Chairman Hensarling will likely have a chilling effect on this investigation, by undercutting the thorough, independent nature of the Inspector General's work," she said in an e-mailed statement.
The probes stem from the publication of details of an internal Fed policy debate by Medley Global Advisors, one day before their official release. Medley provides market intelligence to hedge funds and other clients.
In the report, Medley described deliberations from the Federal Open Market Committee's September, 2012 meeting, when the FOMC decided to buy $40 billion a month of mortgage securities in the third round of so-called quantitative easing.
Fed Chair Janet Yellen has said she would comply with an earlier request from Hensarling for the names of Fed officials who met with Medley.
"This leak is another troubling example of the growing nexus between government and business that creates a crony economy where those with the best Washington connections receive special favors," Hensarling said in the statement.
Before it's here, it's on the Bloomberg Terminal.
LEARN MORE