Happiness Eludes Divided Thailand as Farmers Struggle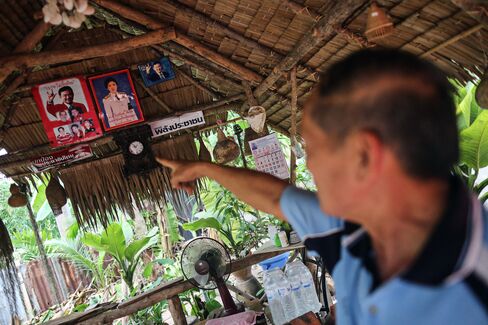 There's not much sign of Thailand's yearlong military rule in Sakhon Sutasaeng's home in the rice-growing northeast region of Isan.
In the traditional thatched sala outside his house, beside a sign that says "Defend Democracy," hangs a portrait of Thaksin Shinawatra, deposed by a 2006 coup. Inside, on a bookshelf, are photos of Thaksin's sister Yingluck, whose government was toppled by the military last May.
"We're waiting for the election next year," said Sakhon, 66, a retired agriculture ministry official. Like many people in the region, he still supports the political movement known as the Red Shirts, who backed Thaksin and his sister. "If nothing happens we are ready to fight to have an election. We have more Red Shirts than the military has soldiers."
The junta seized power with a promise to bridge a decade of political schism in the country, root out corruption and bring happiness. Coup leader-turned-Prime Minister Prayuth Chan-Ocha said he'll return the country to democracy next year if there is no dissent and a new constitution is put in place.
Interviews with rice farmers in Isan, a bastion of support for the parties of the Shinawatras, and rubber planters in the south, a stronghold of their opponents, show that divisions in the country are as wide as ever and trouble may be brewing if the government fails to boost the economy and keep its promise to hold elections.
Rejigging Constitution
"Whatever rejigging the constitution drafters might do to reformulate the electorate, the stark fact is that farmers make up at least half of voters," said David Streckfuss, a Thailand scholar based in Isan. "The military government can't expect to win the day with just its charm. There's not much in the present draft constitution that would be attractive to the average farmer in the northeast."
Since taking over, the junta has had its work cut out. As well as quelling protests, it has faced a global commodities slump, increasing competition from neighboring countries and slowing demand from China. Consumer confidence fell in April to its lowest level in almost a year, and the baht is Asia's worst-performing major currency so far this quarter.
Output at Thailand's factories has declined every month but one since March 2013. Economic growth last quarter was probably about half the pace of Malaysia, the Philippines and Vietnam.
At the heart of Thailand's political troubles is rice, the country's staple food and among its biggest export earners. Agriculture employs almost half of the nation's workers.
Buying Votes?
Yingluck's party won an election in 2011 in part by appealing to rice farmers with a plan to boost rural incomes by buying their crops at above-market rates. Her government also bought rubber directly from farmers. Her opponents said the programs encouraged corruption and were a form of vote buying.
The cost of the rice program has risen to 536 billion baht ($16 billion) according to the junta. Rice subsidies by successive governments over the past 10 years have cost 700 billion baht, according to estimates from the Ministry of Finance.
After the coup, Yingluck was retroactively impeached by the junta's legislature and banned from politics for five years for failing to stem losses from the subsidy. On Tuesday she was in court again, pleading not guilty to negligence charges in a criminal trial that could see her spend up to 10 years in prison.
Rice Reforms
Thaksin, who pursued a similar rice-purchase program, fled Thailand after being convicted by a military-appointed court of corruption and abuse of power.
Prime Minister Prayuth said the government is restructuring the rice industry by reducing planting for a second harvest, encouraging the production of higher-quality rice and helping farmers to improve yields and reduce costs. Some farmers have also been barred from irrigating crops this year because of concern about water shortages.
Farmers in Isan aren't happy with the loss of their second harvest, which they say is more profitable than the first. They say there is plenty of water if only the government would release it from dams. Isan is Thailand's poorest and biggest region, an area larger than Greece where more than half the agricultural land is devoted to rice.
Sovit Phoma, 52, head of Dok Kra Jiew village in the region, said the loss of a second crop has slashed the village's combined annual earnings from rice by two-thirds, to about 4 million baht. He said the stable prices under Thaksin had allowed poor farmers to plan their lives, to borrow money and invest in their future.
"He gave me control over my life," said Sovit, who took out loans that allowed him to send his two children to university. "He made rice farming a business."
Debt Struggle
Critics say the subsidies drained government resources. State stockpiles of the grain have risen to 16 million metric tons, from about 2 million tons before the government began paying guaranteed prices in October 2011.
Laongsri Phoma, a 46-year-old rice farmer in Isan, said the subsidies flowed back into the economy.
"If we have money it means the economy will grow," she said. "If we don't have money, how can people sell things? Who's going to be their customers, because we're the majority of customers in the country."
Without their second crop, many farmers in the area say they're struggling to pay off debts. Apinam Nawan, 47, a rice farmer who also breeds crickets for eating, said most families have debts of 300,000 baht or more and are surviving on money sent from family members working in factories in the cities. "We are going deeper into debt. It's hopeless."
Losing Patience
It isn't just the rice farmers of Isan, who are struggling.
Even in the rubber plantations of the south, a cornerstone of support for Thaksin's opponents, some farmers are losing patience with the junta. Prices of latex, the sap from the rubber tree, have fallen by as much as 65 percent from their peak in early 2011 and by about 14 percent since the coup, as demand from China waned.
"The government doesn't support price distortion," Prayuth said Wednesday in a speech at a rice industry conference in Nonthaburi on Bangkok's outskirts. "Setting product prices too high, both for rice and rubber, shouldn't be done."
Still, the junta began buying rubber at subsidized prices earlier this year after 5,000 farmers in the south threatened to defy martial law and hold protests. The state's rubber stockpile has increased by 70 percent to 340,000 tons since the coup.
'Broken Promise'
Manoon Sooksrisang, 43, a rubber farmer in Songkhla province, said he gets 10,500 baht to 12,000 baht a month now versus 30,000 baht to 45,000 baht before. Manoon joined the protests in Bangkok against Yingluck's government that eventually led to the military takeover after protest leaders said getting rid of her would lead to higher rubber prices. Now, he says he and his friends feel betrayed.
"It's like a broken promise," he said. "They don't care about us at all."
The protests were led by former members of the Democrat party, who have their stronghold in southern Thailand. The Democrats have become natural allies for the traditional power brokers -- civil servants, army officers and royalists in Bangkok -- who felt threatened by the rise of the Shinawatra political machine.
Most farmers interviewed in the south are upset about the drop in income but still support the military government, arguing that they have at least restored order and should be given more time to fix the country's problems.
Interim Charter
The government is responding by boosting spending. Lawmakers proposed a fiscal 2016 budget today that would see the highest proportion of investment in seven years, largely by upgrading Thailand's aging rail network. Of the 543.6 billion baht proposed for investment, 297 billion baht would be for outside Bangkok.
Lawmakers will also soon consider changes to the interim constitution to allow a referendum to be held on a permanent charter. If rejected, the charter-drafting process would start again, further delaying the return of democracy.
"Elections coming back to the people is a good thing, but we have to look into whether it is the right time," said Suwichan Ruttiwul, 50, who sells rubber sheets in the town of Khlong Ngae. He blames Thaksin for the division in the country.
"If there's an election now there will be chaos," agreed Nataworn Jantarit, 46, another rubber farmer and latex seller. "Election or not, the main issue is money. It's simple. It's the farmer's stomach."
Returning Happiness?
Meantime, Prayuth appears on TV almost every Friday evening on all major networks in a program called "Returning Happiness to the People." In monologues that can last an hour and a half, he offers advice on everything from how to reduce household debt to tips on cultivating orchids and strawberries.
He penned a song, "Return Happiness to Thailand," which plays each night after the national anthem and appears when people try to access websites banned by the junta.
In Isan, villagers said they are they are fed up with the weekly broadcasts.
"The best business would be selling TVs since so many people are breaking theirs when they see Prayuth's face," joked Suchart Busrakham, 49, a farmer who borrowed money to buy a truck. He had planned to sell straw mats in surrounding villages, but with the drop in rice prices and consumer spending he's fallen behind on repayments and now ferries schoolchildren to make ends meet.
"You can't command people to be united," he said. "We want our democracy back."
Before it's here, it's on the Bloomberg Terminal.
LEARN MORE