Goldman Puts Indian Builder With 11% Yield Among Junk-Bond Bets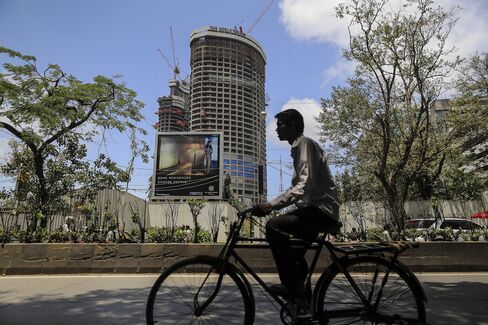 Goldman Sachs Group Inc. has put Lodha Developers International Ltd. among its top junk-bond bets, as Asian high-yield debt delivers the best returns in three years.
The homebuilder's 2020 notes, which at 12 percent carry the highest coupon of any active Indian offshore debt, were added by the New York-based bank to its 20 most-favored speculative-grade trades in the region, only the second addition from India after ICICI Bank Ltd.'s 2022 debentures in September. The country's biggest real-estate company represents "good value" with an 11 percent yield given its leverage ratio and land costs, Goldman Sachs said May 19.
The call is a fillip for Mumbai-based Lodha as the developer seeks funds for its foray into the U.K. market amid a housing slump at home. Fund managers bought 40 percent of Lodha's notes, while private banks took 26 percent. The developer is expanding overseas after home sales in India's top six cities fell 8 percent in the three months to March 31 from a year ago, research firm Liases Foras estimates.
"You'll probably need strong conviction to buy at these yields, which are really where the private banks tend to come in," said Kim Jinha, the head of global fixed income in Seoul at Mirae Asset Global Investments Ltd. "There could be catalysts for Lodha from India's reform plans," said Kim, who doesn't own the debt.
Still Value
Lodha's $200 million of 12 percent notes, sold to investors at 100 cents on the dollar in March, were trading at 103.306 cents at 12:16 p.m. Friday in Hong Kong, poised for a fourth straight weekly gain. They're rated Ba3 by Moody's Investors Service, or three levels below investment grade.
The 2020 securities have gained 8.1 percent since their debut. Non-investment grade bonds in India rose an average of 1.7 percent over the period while Chinese peers are up 4.1 percent, Bank of America Merrill Lynch indexes show. Such notes across Asia have returned 4.8 percent this year, the best start since 2012.
"We still think there is value for India's biggest property company," analysts led by Hong Kong-based Kenneth Ho wrote in a May 19 report. Ho wasn't available for an interview, Goldman Sachs Hong Kong-based spokeswoman Vicki Kwong said.
London Calling
Lodha, founded in 1980, made 13.2 percent of home sales in Mumbai's metropolitan region in the fiscal year to March 2014, according to its bond prospectus. The closely held developer has a net debt to earnings before interest, tax, depreciation and amortization ratio of 3.3 times, Goldman Sachs said, while Ebitda-to-interest is "healthy" at 4.8 times.
"This was a small issue with news being that a few anchor investors were also involved, thus the bond may have rallied on scarcity," said Abhishek Bhalotia, the London-based chief executive officer of Kotak Mahindra U.K. Ltd., part of the banking group that manages $11.5 billion of assets globally. "The overall housing market in the U.K is still ''fairly robust and continues to attract a lot of Asian investors.''
Lodha's London projects, including one near Mayfair, are due for completion starting September 2017. The ventures will be a test for a company that's only expanded domestically in recent years, according to A.K. Sridhar, the chief investment officer in Mumbai at IndiaFirst Life Insurance Co.
''For somebody borrowing at 12 percent to invest in overseas real estate assets makes us a little circumspect on the viability," Sridhar said by phone May 20. "You're essentially making a call on their London projects."
While India's debt market will deepen as issuers get more diverse, many global investors might be hesitant to take big risks on high-yield notes without building deep knowledge and skills in the market, Sukumar Rajah, a Singapore-based managing director at Franklin Templeton Investments, said by e-mail Thursday.
Cyclical Recovery
Goldman Sachs is jointly investing $250 million into the Indian real estate market because the "cyclical recovery in India has begun," the bank's country chairman Sonjoy Chatterjee said in a statement last week.
Indian companies have raised $6.3 billion from international debt markets in 2015, down from $8.5 billion a year earlier. High-yield companies in India like Lodha have tended to offer stronger protection to investors in recent bond sales than Asian peers, Moody's said in a May 7 report.
Government officials are forecasting growth of 8 percent in the fiscal year ending March 2016, the fastest among major economies. Expansion in China is seen slowing to 6.7 percent in calender 2016 from 7 percent this year, according to median economist forecasts in Bloomberg surveys.
Urban Slums
Prime Minister Narendra Modi has introduced a housing program to eliminate urban slums and build 20 million homes over the next seven years. According to estimates from KPMG LLP and the National Real Estate Development Council, it'll take $2 trillion in financing to meet his targets.
"The government's thrust in many cities throws up a lot of opportunities," Khushru Jijina, the managing director of Piramal Fund Management Ltd., said in an interview in Mumbai on May 18. Piramal's Real Estate Offshore Fund has attracted $125 million from foreign investors in two raisings, Jijina said.
Before it's here, it's on the Bloomberg Terminal.
LEARN MORE