Feminist Ideals Clash With Sweden's Defense Need as Danger Grows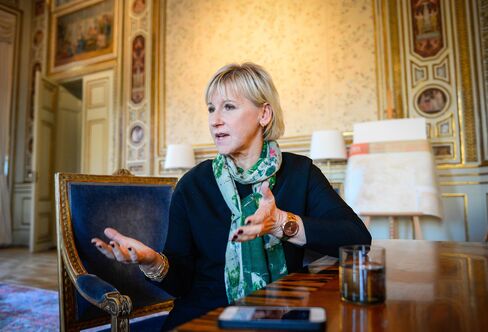 Sweden's feminist foreign policy is running into realpolitik.
The Social Democratic-led government's attempt to export feminism has stirred up anger in the Middle East after Sweden canceled an arms accord with Saudi Arabia. Now, feminist lawmakers and advocates are pushing for even deeper cuts in weapons sales to protect women from the ravages of war.
Their efforts clash with neutral Sweden's need to keep its arms industry in full swing as Russia seeks to assert its influence in the region. Shipping everything from fighter jets and submarines to anti-tank weapons, the largest Nordic economy was the world's biggest arms exporter per capita after Israel in the five years through 2013.
"We can't shut down our weapons production, our defense industry, and at the same time with credibility say that we'll be military non-aligned," Foreign Minister Margot Wallstroem said in an interview. "It's a moral and political dilemma that we need to try to handle."
The decision in March to cancel the decade-old Saudi agreement was hailed by Wallstroem's minority coalition partner, the Green Party, as a "first step." The debate is expected to heat up after June 30, when a committee in parliament will issue a report with stricter guidelines on arms export to non-democracies.
Women's Rights
Hans Linde, foreign policy spokesman for government ally the Left Party, said limiting arms export is an important part of feminist foreign policy.
"It will be very difficult to keep exporting weapons to countries that at the same time violate women's rights," he said in an interview.
The government is seeking to capture support from voters that nearly put the world's first feminist party into parliament in last September's general election. That group's leader vows to hold the government accountable for its promises.
"We need to consider how we can disarm different conflicts," Feminist Initiative leader Gudrun Schyman said. "I don't think anyone thinks that Sweden can defend itself with military means."
'Deep Freeze'
Swedish business leaders are urging restraint after the spat with Saudi Arabia caused the oil-rich kingdom to temporarily deny business visas.
It led to a "deep freeze" in relations with some Muslim countries, Haakan Buskhe, chief executive officer of Saab AB, which makes Gripen jets among other weapons systems, said in an interview May 13. "Now, the most dramatic situation has been healed, but of course we're not in the front of the queue now."
Swedish defense exports amounted to 8 billion kronor ($964 million) in 2014, down 33 percent from the year before, according to the Inspectorate of Strategic Products. About 80 percent went to the European Union, the U.S. and other established cooperation countries. Some 20 percent went to countries such as Thailand, India and Saudi Arabia.
While there won't be a list of countries to which weapons can't be sold, stricter rules on sales to non-democratic countries may damp exports to Saudi Arabia and Thailand -- two of the main destinations for Swedish military equipment.
Saab's Buskhe said there's a risk of renewed difficulties for Saab and the whole industry from stricter rules.
"It will hurt Sweden's ability to defend itself if you change export legislation too much," Buskhe said. "If the sky went completely dark, everyone would want to use their own resources to mobilize. Today, we have our own resources."
Before it's here, it's on the Bloomberg Terminal.
LEARN MORE