Brainless ATMs Are the Way of the Future
Moving to the cloud can cut costs, but progress will be slow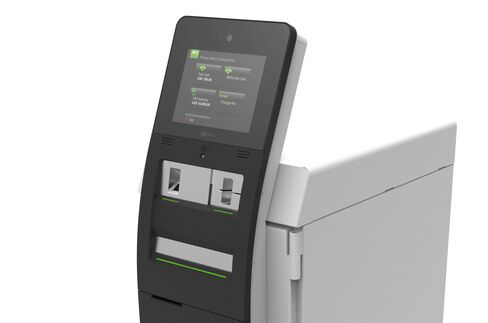 Shoppers at a mall in the Dallas-Fort Worth area this summer may encounter an unusual-looking automated teller machine: a tablet with no keyboard. It can dispense cash and display checking account balances—but compared with your typical bank ATM, it's as dumb as a rock.
Released by NCR in April, the Cx110 doesn't have much of a brain and instead relies on software and computing power sitting on remote servers. Machines such as the Cx110 will enable banks to roll out new services to consumers faster while sharply lowering operating costs, says Richard Crone, chief executive officer of Crone Consulting, which advises companies on payment systems. "It's revolutionary for ATM deployers," he says.
Most of the about 3 million ATMs installed worldwide contain computers that complete most tasks independently instead of getting their commands from a data center. Their owners have to dispatch a technician every time they want to make a major change to the operating system or add a new feature. Only 15 percent to 20 percent of the world's leading banks have begun connecting their ATMs to the cloud, according to Wincor Nixdorf, a German ATM manufacturer.
NCR's sales pitch to banks is that its Cx110 and companion Kalpana cloud management software can slash the costs of running an ATM by up to 40 percent. A company with 100 ATMs could see savings of as much as $800,000 a year, NCR estimates. Because cloud-connected machines can be monitored more closely, it will be easier for banks to manage their networks. Says Robert Johnston, marketing director for ATM software at NCR: "There's less of a chance an ATM will run out of cash."
Cardtronics, a Houston-based company that operates 110,000 ATMs worldwide, has signed up to try out the Cx110 at a handful of shopping malls in Texas this summer. "It's going to be a tremendous facilitator for us to test new services," says David Dove, president of the North American Business Group at Cardtronics. For example, more banks could start offering their customers the option of making a cash withdrawal from an ATM using their smartphone, which is faster and more secure than keying in a PIN and other information on a teller machine. Wintrust Financial already does that in the Chicago area.
The move to the cloud may also help combat ATM robberies where thieves physically break into the machine and plug into its USB slot to take control of the internal computer—ordering the machine's safe to dispense the cash. "It's safe to assume [NCR's approach] is way more secure and prevents these kinds of attacks," says Tillmann Werner, director of technical analysis at CrowdStrike, a security company that helped investigate one such break-in. JPMorgan Chase, Bank of America, Citigroup, and Wells Fargo, the largest retail banks in the U.S., declined to comment for this story.
All of the major ATM manufacturers report an increase in interest in cloud software and services from their customers. Michael Engel, director of the software product line for banking at Wincor, says his company has doubled the number of ATMs it's connected to the cloud in the last 18 months, to about 100,000. Diebold recently bought Phoenix Interactive Design, a provider of software and services, for an undisclosed sum to bolster its remote ATM management capabilities with features that let banks put as much brainpower on an ATM or the data center as they want, shifting the balance at will. "What we've seen is a lot of customers being very interested in being able to centralize administration of their fleet," says Devon Watson, vice president for software research and strategy at Diebold.
A typical ATM lasts 8 to 12 years, so the transition to the cloud will be gradual, says Dominic Hirsch, managing director at Retail Banking Research in London. Some banks also may drag their feet because there are upfront costs. "You need to invest in server technology," says Hirsch.
One smaller lender that hasn't rushed to upgrade is KeyPoint Credit Union in California, which operates just 35 ATMs. "Someday undoubtedly we will move to the cloud," says Chief Operating Officer Samuel Tuohey, adding that two important criteria are cost and ease of implementation. "We are not there yet," he says.
The bottom line: Fewer than 20 percent of large banks worldwide are connecting their ATMs to the cloud.
Before it's here, it's on the Bloomberg Terminal.
LEARN MORE