Big M&A Deals in Spain Vanish as Elections Spook Foreign Buyers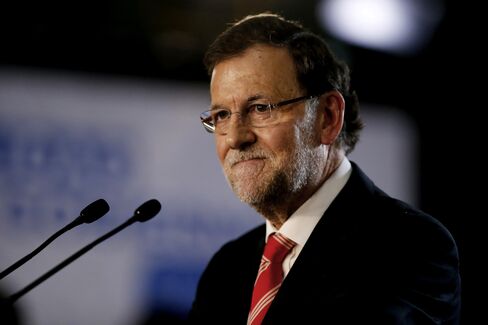 Dealmaking in Spain has slowed dramatically as foreign buyers worry that elections this year could upend the decades-old political establishment.
Pending and completed deals involving Spanish targets this year are down about 71 percent compared with 2014, according to data compiled by Bloomberg. Instead, Spanish companies have been on the hunt for assets abroad to help them diversify risks associated with their homeland. Such deals have almost doubled in volume to $7.3 billion, including Banco de Sabadell SA's $2.5 billion acquisition of Britain's TSB Banking Group Plc.
With regional and local elections on May 24 and a general election toward the end of the year, political instability may haunt mergers and acquisitions in the country until the end of 2015, according to dealmakers.
"No one is going to embark on a big, multi billion-euro transaction in Spain without the guarantee of a stable, political landscape in the coming years," said Rafael Roldan, an M&A partner at consultancy firm EY in Madrid. "That's even clearer in highly regulated industries such as infrastructure, utilities, media or banks. In the meantime, big companies may continue to look for growth opportunities overseas."
Spanish politics, dominated for more than three decades by Prime Minister Mariano Rajoy's People's Party and his rivals, the Socialists, has been transformed by the emergence of two parties over the past year -- centrist Ciudadanos and anti-austerity Podemos. Podemos has led in several recent polls and Ciudadanos has more than doubled its support since January as voters, angered by an unemployment rate close to 24 percent and widespread corruption, turn against the establishment. Their ascendance may force Rajoy to form a coalition to govern the country.
Tax Burdens
While Ciudadanos has labeled itself as pro-market, Podemos is proposing measures including an increase in the tax burdens of big companies and on salaries above 50,000 euros, both of which may make it more unattractive for foreign investors to buy Spanish rivals or employ executives in the region.
By May last year, more than 16 billion euros ($17.8 billion) of deals had been agreed involving Spanish targets, including Vodafone Group Plc's 7.2 billion-euro acquisition of Grupo Corporativo ONO SA.
For 2015, that figure stands at 4.8 billion euros, with foreign acquisitions of Spanish companies including Kuwait Investment Authority's purchase of a 25 percent stake in Gas Natural SDG SA's Global Power Generation -- valued at just $550 million.
The uncertainty of the election is having the opposite impact on initial public offerings in Spain. Their value has jumped by 39 percent this year, reaching a record high in the first quarter and making Spain the most active IPO market in Europe this year by amounts raised, according to data compiled by Bloomberg.
'Political Surprises'
"Companies have rushed to carry out IPOs ahead of the elections to avoid any potential political surprises that could affect capital markets," Roldan of EY said.
As Spaniards head to the polls, many companies and dealmakers are hoping that much like in the U.K. -- where smaller parties flopped and David Cameron's Conservatives clinched a majority -- the pollsters have got it wrong.
See also: Fewer Jobs for Rajoy's Tribe Signals Leadership Tensions
"What's important for M&A, regardless of which party wins, is that the new government is strong enough to be able to carry out structural economic reforms and secure political stability, thus improving confidence in the country," said Javier Garcia de Enterria, head of corporate M&A in Spain at law firm Clifford Chance.
Before it's here, it's on the Bloomberg Terminal.
LEARN MORE