Beer Bonds Beckon for Aussie Investors as SABMiller Weighs Deal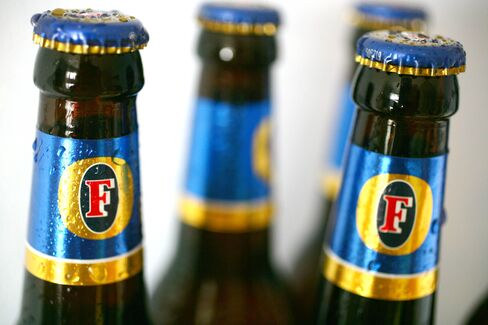 SABMiller Plc must be hoping that Australians like its debt as much as its beer.
The world's second-largest brewer, which took over iconic Australian beer brands including Foster's and Victoria Bitter in 2011, is considering its first bond deal Down Under.
While subdued consumer sentiment has pressured beer sale volumes in Australia, SABMiller said this month it had increased its share of the nation's market. A debt sale by the London-based producer would add to A$4.46 billion ($3.53 billion) of bond offerings in Australia this year by non-financial companies including miner BHP Billiton Ltd. and Swiss concrete maker Holcim Ltd.
"A number of companies from outside Australia have been doing issuance here and that goes to supporting the market by creating greater diversity and depth," said Justin Davey, a Sydney-based money manager at BT Investment Management Ltd. A deal from SABMiller "would be very welcome and would only add to the Australian market."
The drinks manufacturer, whose Carlton Draught and VB brands are among the nation's most popular, will meet with Aussie fixed-income investors next month and a capital markets deal may follow, sale managers Australia & New Zealand Banking Group Ltd. and Westpac Banking Corp. said by e-mail on Thursday.
SABMiller carries a credit score of A- at both Standard & Poor's and Fitch Ratings, the seventh-highest ranking, while Moody's has it at Baa1, the equivalent of one level lower.
"They're coming with the right sort of rating to be able to get something away pretty well," said Davey. "There's likely to be a natural hedge by having operations here and by having revenue to put against the debt costs."
Before it's here, it's on the Bloomberg Terminal.
LEARN MORE