Bankers Told by Swedish Minister Their Threats Are Baseless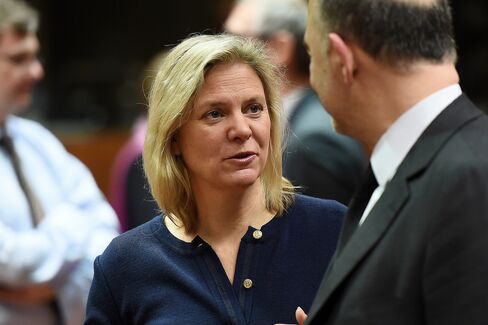 Sweden's minister in charge of drafting bank laws dismissed complaints led by Nordea Bank AB that a planned tax will hurt economic growth.
Nordea's chief executive officer, Christian Clausen, and its chairman, Bjoern Wahlroos, have both gone on the record to criticize a planned "financial activity" tax, urging the government to reconsider. Wahlroos even went as far as to warn that Sweden's banks may move parts of their business to Copenhagen and London to avoid the tax.
But Financial Markets Minister Per Bolund says the cumulative cost of the levy to the industry will amount to less than Swedish banks received in tax cuts in 2013. That was part of a broad corporate tax reduction to 22 percent from 26.3 percent across industries. He rejects Nordea's argument that the proposal will threaten Sweden's economic growth.
"If you look at the level of the tax compared to the turnover that the banks have and the profit that the bank sector makes, it's very hard to see that it would have any dramatic effect," Bolund said in an interview in Stockholm on Thursday.
Sweden's Social Democrat-led government has singled out the financial industry as a source for generating revenue to help fund its pledge to increase welfare spending. Finance Minister Magdalena Andersson says the country's largest banks make "big money" but are "under-taxed."
The main opposition party, the Moderates, takes the view that "a tax on banks could be worth considering," Ulf Kristersson, its economic policy spokesman, said in a text message on Friday. "But if pursued, it should finance other measures that strengthen the business climate, not an expansion of the benefits system."
Tax Advantage
Andersson and Bolund both argue that Sweden's banks currently enjoy an advantage over other industries in that they aren't subject to value-added tax requirements.
The 4 billion kronor ($480 million) in annual revenue the government expects to generate from its proposal would cost Nordea about 1.3 percent of profit in 2017, according to an estimate by Keefe, Bruyette & Woods. The plan is currently under review, with a detailed draft due by November 2016. The KBW estimate is based on an assumption that the government is more likely to tax Swedish revenue than payrolls in order to protect jobs.
Shifting Business
The finance industry's exemption from VAT means the government needs to explore ways to ensure they pay "a level of tax that's more comparable to other sectors," Bolund said.
Sweden already tried imposing a bank tax in the 1980s, targeting sales of some financial products. The tax was abolished in 1991, after banks shifted the parts of their business that were affected to other locations.
Finland tested bank taxes more recently, creating a temporary levy in 2013 intended to last three years. Though corporate taxes paid by the financial industry to the Finnish state rose the year the tax was introduced, Nordea's payment to Finland declined, tax office records show.
Asked whether Sweden will consider the risk of tax evasion in its review of the planned bank tax, Bolund said "it was too early to say" whether that was possible.
Before it's here, it's on the Bloomberg Terminal.
LEARN MORE