World Bond Market Breaks Apart After Years of Trading in Sync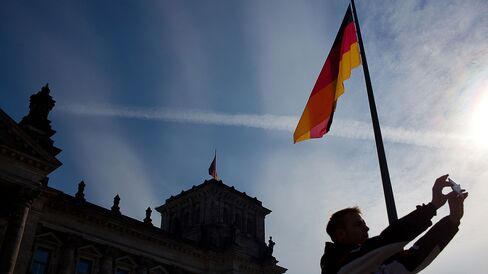 The relationship between the U.S. and Europe is breaking down in the bond market.
After three years of moving more or less in tandem with one another, a measure of the link between U.S. Treasuries and German bunds has fallen to the weakest since 2009. At 1.6 percentage points, the gap between 10-year yields in the U.S. and in Germany is more than three times its decade-long average.
This suggests that the U.S. may, in fact, be pulling away from the rest of the world and finally having its long-awaited economic renaissance. While the European Central Bank's unprecedented bond-purchasing program has sent yields in the region so low that historical models are being rendered obsolete, the distortions are having less of an effect on American debt than you might think.
"Correlations have declined" after being very high since the crisis, said Priya Misra, head of U.S. interest-rate strategy at Bank of America Corp. "If they continue to decline, maybe Europe won't matter as much for the Fed."
This makes it even harder to predict how the global bond market will move on any given day.
On Tuesday, for example, yields on U.S. 10-year Treasuries rose after housing data pleasantly surprised analysts.
Meanwhile, rates on similarly-dated German notes fell after the ECB signaled it would front-load its bond buying ahead of an anticipated summer lull, when traders typically go away on vacation.
Correlation Drop
The recent breakdown is a departure from the three years through 2014, when the correlation between German and U.S. 10-year bond yields approached record levels, according to data compiled by Bloomberg.
"Does Europe continue to matter for us?" Misra said. "It clearly matters historically. It mattered a little less in the first quarter."
Low European rates have helped prevent U.S. bond yields from rising too much as the Fed prepares to lift borrowing costs for the first time since 2006. That relationship may be changing as the European bond market becomes more volatile in response to signs of growth in the region.
So while Europe's distorted credit markets may keep a lid on how high U.S. yields can go, the pull may not be strong enough to prevent a rise altogether.
Before it's here, it's on the Bloomberg Terminal.
LEARN MORE