What Does BOJ Do Next? Anybody's Guess, Based on Forecasts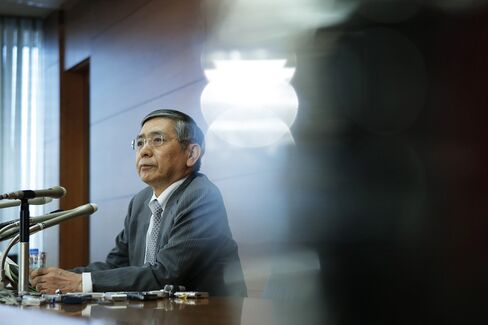 Economists are united in saying the Bank of Japan won't make any change in its policy stance on Friday. Further out, things are a lot less clear, with analysts presenting a wide range of scenarios.
The challenge is trying to project what Governor Haruhiko Kuroda will do after his history of surprises since taking office in March 2013. After the most recent policy meeting, Kuroda led his board in keeping the BOJ's stance unchanged, even as it abandoned its original two-year time frame for reaching 2 percent inflation.
Following are a selection of policy forecasts of economists.
*Load up on ETFs, and cut bond buying
This is the scenario laid out by Nomura Securities Co. Economists led by Tomo Kinoshita think the BOJ may boost stimulus in April 2016 by doubling the annual pace that it buys exchange-traded funds to 6 trillion yen ($50 billion).
At the same time, they see the central bank setting the stage for a pullback in its record purchases of Japanese government bonds. It would follow through on the taper plan that summer by starting to cut the pace at which it accumulates JGBs. Incremental reductions would take it from 80 trillion yen to 30 trillion yen by October the following year.
*Let's try regional bonds
Some analysts think the BOJ will buy regional bonds. Yuji Shimanaka, an economist at Mitsubishi UFJ Morgan Stanley Securities Co., predicts buying that sort of debt would be an effective way to show BOJ's "whatever it takes" approach.
Takahiro Sekido, a strategist at Bank of Tokyo-Mitsubishi UFJ Ltd., said such a ground-breaking approach could also help Prime Minister Shinzo Abe in his efforts to revitalize regional economies, as the government tries to broaden the impact of Abenomics.
*Stick with old faithful
Another group sees bigger purchases of JGBs as the likely next step for easing. Fourteen of 36 economists in a survey by Bloomberg say the central bank will expand bond purchases when it adds to easing.
After expanding its asset purchase program last October, the BOJ has scope to buy every new bond issued by the finance ministry.
BNP Paribas SA estimates the central bank will hold 39 percent of outstanding government bonds at the end of 2016, up from 25 percent as of the end of 2014.
*How about 3 percent?
Inflation as measured by the BOJ's main gauge is at 1/10 its target, and just two of 36 economists in the Bloomberg survey expect it to reach 2 percent around the six months through September 2016, Kuroda's latest time frame.
To reignite inflation expectations, the governor and his colleagues could aim to overshoot the current, and set out a longer time frame. One option, says JPMorgan Chase & Co. economist Masaaki Kanno, is to target 3 percent inflation and push the horizon out to 2018.
*Cutting interest rates
Nine of the 36 economists surveyed predict the BOJ will cut the interest rate it pays private banks on excess reserves that they hold at the central bank when it next boosts its stimulus.
While the BOJ isn't currently considering reducing the rate from the current 0.1 percent, the option isn't permanently off the table, people familiar with the discussions said this month.
*Long-term bond yield target
Ryutaro Kono, an economist at BNP Paribas, said it's possible that the BOJ will set a target for long-term bond yields, aiming to drive rates lower.
Since the BOJ began unprecedented asset purchases in April 2013, the benchmark 10-year JGB yield has swung between 0.195 percent and 1 percent. It was at 0.395 percent on Wednesday afternoon in Tokyo.
*Timing of tapering
Five of the 36 surveyed see the BOJ starting to taper its asset purchases as soon as next year, and another five in the second half of 2017. Thirteen said it won't happen until 2018 or later, while another 13 said any tapering is unforeseeable.
BNP's Kono said the BOJ is likely to begin exit discussions sometime after September 2017. That's when he thinks the blow to the economy from another increase in the sales tax planned for April 2017 will start to wane.
*And what does the bond market say?
Perceptions of investors in the bond market signal that inflation started to turn around in January this year, though it's only half way to the BOJ's target.
The break-even rate, which looks at the difference in yields between regular bonds and inflation-linked debt, is pointing to average annual inflation of 1.04 percent over the next 10 years, up from 0.71 percent in January.
Before it's here, it's on the Bloomberg Terminal.
LEARN MORE