Wall Street Doesn't Want Senate's 'Rollbacks' for Wall Street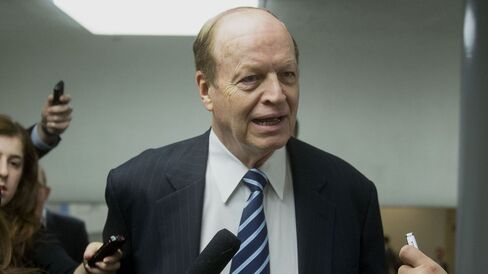 A U.S. Senate bill to ease rules for some banks has drawn fire as a giveaway to Wall Street, even on the presidential campaign trail. But to this giveaway, the biggest U.S. banks are saying, "No, thanks."
Last week, the Republican leader of the Senate Banking Committee pitched the most significant overhaul of the Dodd-Frank Act since the legislation's 2010 enactment. Democrats responded by calling the proposal a "Wall Street deregulation package" that amounts to an industry wish list.
Those who work for mega-banks and represent them say that this wish list has nothing they'd ask for, and could instead bring headaches.
"The very largest banks are the one group that got nothing in this bill," said Francis Creighton, executive vice president for government affairs at the Financial Services Roundtable. He called the attempt to link the bill to Wall Street "farcical."
A key proposal in Senator Richard Shelby's legislation could free about two dozen mid-size lenders from the toughest and most costly burdens of Dodd-Frank, including requirements that they undergo annual stress tests and hold big capital cushions.
Citigroup Competition
Such a change would probably prove advantageous for banks including U.S. Bancorp and PNC Financial Services Group Inc. in instances where they might try to compete with the likes of Citigroup Inc. for domestic business.
Shelby's bill also gives bank bashers on Capitol Hill a fresh opportunity to criticize the industry and pursue agendas that could hurt Wall Street, according to interviews with bank executives and lobbyists who asked not to be named because they weren't authorized to speak publicly.
Senator Elizabeth Warren, a Massachusetts Democrat, has already proposed legislation with Louisiana Republican David Vitter that would curtail the ability of Goldman Sachs Group Inc. and Morgan Stanley to own commodities. The lawmakers also teamed up to propose limits on the Federal Reserve's ability to lend money to banks during a crisis. Both ideas could reemerge as amendments to Shelby's bill as it moves through the Senate.
Goldman Sachs is sufficiently concerned about the threat to its commodity business that after the issue came up at a Capitol Hill hearing in March, the bank set up meetings with Senate staff members to try to head off any legislation, according to a congressional aide.
Andrew Williams, a Goldman Sachs spokesman, declined to comment.
System Gaming
Wall Street has been trying to lay low in Washington this year after earlier legislative victories spurred a backlash against the industry -- especially a December escape from a Dodd-Frank requirement that banks eject certain derivatives trades from units that get government backing. Shelby's bill is now hurting efforts to stay out of the spotlight.
Democratic presidential candidate Hillary Clinton took the opportunity to rail against Wall Street at a Tuesday campaign event in Iowa, calling the Republican proposal a "cynical attempt to game the system for those at the top."
The Obama administration has piled on too, with the Treasury Department saying Shelby's bill risked undermining "significant portions of Wall Street reform."
The legislation -- set for a Thursday banking panel discussion -- has already been called a list of "Dodd-Frank rollbacks" by Senator Sherrod Brown, the top Democrat on the banking panel.
'Democrats' Hype'
He and other Democrats offered a much narrower alternative that eases compliance burdens for community banks. That's the only piece of the Republicans' bill that Democrats say they will support.
Shelby, when asked in a brief Tuesday interview whether his bill aids the biggest banks, said "that's hype."
"I'm not a Wall Street man," the Alabama senator said.
Before it's here, it's on the Bloomberg Terminal.
LEARN MORE