Volatility Lull Opens Way for Polish Return to Zloty Bond Sales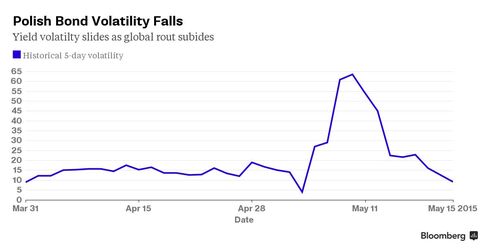 Two weeks after Poland scrapped a debt sale for the first time in six years as yields soared, the government is returning to a calmer bond market.
The Finance Ministry met its maximum target at an auction on Thursday, selling 4.06 billion zloty ($1.1 billion) of zero-coupon bonds due July 2017 and fixed-rate notes maturing in April 2020. After volatility in two-year government zloty yields jumped 15-fold earlier in May, the swings have eased.
Poland's return shows the effect of the European Central Bank's pledge this week to stimulate the economy by bringing forward its bond purchases before the summer lull. While concerns over a global bond rout have subsided, two-year zloty yields remain within six basis points of this year's peak reached May 6, signaling some risks remain, according to Citigroup Inc. and ING Groep NV.
"Things have settled a bit -- market moves aren't as unexpected, unpredictable and as monstrous as before," Marcin Karasiewicz, a fixed-income trader at Poland's largest bank PKO Bank Polski SA in Warsaw, said by e-mail on Wednesday. "It was a good choice to cancel the previous bond auction and it's a good idea to come back now."
Five-day volatility on Poland's two-year yield was little changed at 9.4 percent on Thursday, down from more than 60 percent two weeks ago, according to data compiled by Bloomberg. Two-year yields declined one basis point to 1.75 percent at 1:10 p.m. in Warsaw, compared with this year's peak of 1.81 percent on May 6.
Global Selloff
Poland canceled on May 7 a plan to sell as much as 5 billion zloty of notes as a selloff erased more than $400 billion from the global debt market in three weeks amid a rebound in oil prices and signs of recovery in Europe.
The rout subsided in the past week as some U.S. economic data disappointed, bolstering the case for keeping interest rates low. ECB officials said this week the bank will bring forward its quantitative-easing program and can extend the program if needed.
The ECB "managed to place a lid on European rates," Luis Costa, the chief strategist for eastern Europe, the Middle East and Africa at Citigroup in London, said by e-mail. "So, the risks of aggressive selloffs have been reduced. But there are other factors to consider. Politics continues to worry investors."
Presidential Vote
Poland faces a run-off presidential vote on May 24. Incumbent Bronislaw Komorowski, backed by the ruling Civic Platform, unexpectedly lost a preliminary ballot to Andrzej Duda, whose policies include reducing the retirement age and imposing special taxes on banks. The weekend's vote sets the stage for parliamentary elections later the year.
The situation on the bond market "isn't certain," ING Groep's Warsaw-based economists led by Rafal Benecki wrote in a report on Wednesday. That's why it was "a good move" for Poland to offer shorter rather than longer maturities, he said.
Before it's here, it's on the Bloomberg Terminal.
LEARN MORE