This Small Business Survey Shows a More Optimistic Picture Than Other Measures
The Thumbtack survey has anticipated moves in other indexes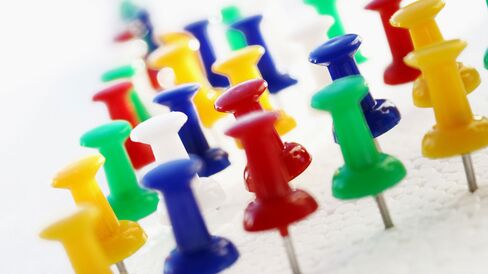 The Thumbtack Small Business Sentiment Index continued on an upward trajectory during the first quarter, suggesting that the small-business sector may be performing better than some analysts had assumed. This trend contradicts the NFIB Small Business Optimism Index, which declined sharply during the first quarter.
Thumbtack & NFIB Surveys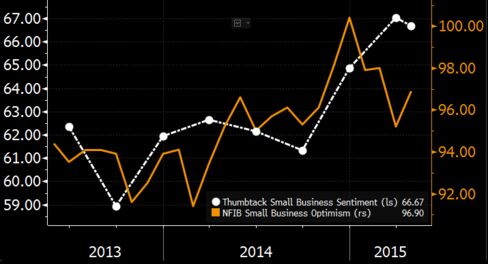 Sole proprietorships — the ultra-low end of the small business sector — constitute a population that is difficult for other surveys to reach. Most economic sentiment indexes only survey national level sentiment. Thumbtack's survey fits a different niche. Its sample size — there were more than 10,000 responses in each of the most recent survey periods — is large enough to examine both state-level and industry-based index trends. The sample includes such professions as music instructors, gardeners, massage therapists and small-firm lawyers.
More than 90 percent of Thumbtack's respondents have fewer than five employees. As a point of comparison, in 2012 the NFIB reported that for its survey, more than 40 percent of respondents had five or fewer employees, and 7 percent had 40 or more employees.
Sole proprietorships and partnerships made up about 7 percent of U.S. GDP in 2013. From 2009 to 2013, this segment grew at nearly twice the rate as the broader U.S. economy.
Sole Proprietorships & Partnerships Outpacing Overall U.S. GDP Growth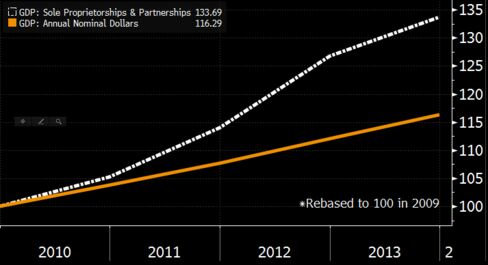 Over the two and a half years it covers — until recently on a quarterly basis — the Thumbtack sentiment index has tracked closely other measures of consumer and small business sentiment. Moreover, it has frequently anticipated changes in comparable surveys, as well as moved more smoothly.
At the moment, the Thumbtack index points toward a more modest moderation in sentiment than other consumer and small-business surveys.
Thumbtack & Consumer Sentiment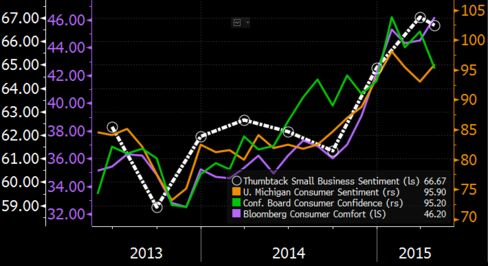 Thumbtack is also publishing a separate index of inflation expectations, constructed out of three sub-indexes. Its latest print suggests that the CPI's growth rate is set to flatten out after its recent gains, consistent with last week's PPI print.
The history of this index reveals that it has also anticipated a number of notable monthly moves in headline inflation, particularly as measured by the CPI, even though Thumbtack survey respondents are more likely to be providers of services than goods.
Thumbtack & CPI, PCE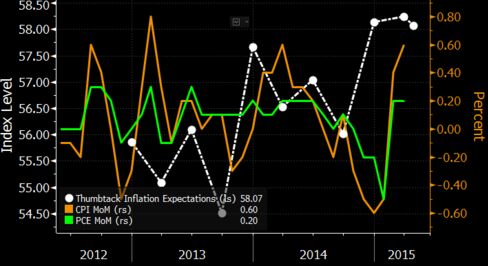 In contrast, the employment sub-indexes have yet to show a strong relationship with private, service-providing nonfarm payrolls, but it does show some relationship with the year-on-year percent change in the small-firm portions of the ADP report.
Thumbtack and ADP Small Firms
The Thumbtack index is constructed in a manner similar to a diffusion index such as the ISM and Markit PMIs. The major difference is that Thumbtack primarily measures sentiment and expectations rather than more objective matters such as inventories and back orders. Its diffusion-like construction means the levels of the 11 sub-indexes and two indexes are themselves economically meaningful.
Due to some idiosyncrasies of the underlying survey, there is a slight downward bias in the headline sentiment index. The net result is that headline index values above 50 indicate overall positive sentiment, while only values below 46 clearly indicate overall negative sentiment.
All the sub-indexes aside from "Past Job Openings" can be read directly like standard diffusion indexes: above 50 is positive, and below 50 is negative.
Another difference is that unlike the ISM and Markit surveys, the Thumbtack survey does not use a panel of respondents designed to mimic the industrial composition of the U.S. economy. Bloomberg is distributing industry-specific versions of the Thumbtack indexes and sub-indexes, which are mapped onto NAICS codes that can be used to adjust the composition of the survey responses in order to track the U.S. economy more closely.
This post is courtesy of Bloomberg Intelligence Economics.
Before it's here, it's on the Bloomberg Terminal.
LEARN MORE