Thirugnanasampanthamoorthy Spells Headache for Swiss Immigrants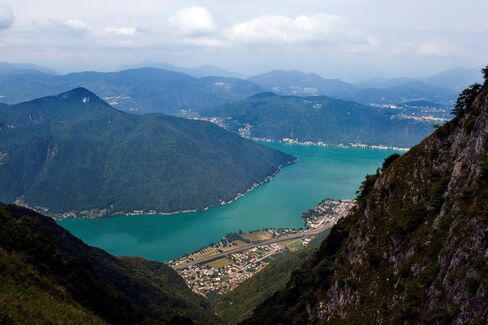 For a family of Sri Lankans in Switzerland, the trials and tribulations of daily life are compounded by their surname: Thirugnanasampanthamoorthy.
At 26 letters, there isn't enough space for it on the doorbell at the family's pink-colored apartment building flanking a busy street in Bellinzona, in the Italian-speaking Ticino region. Fitting onto the buzzer isn't the only challenge the family has faced.
"When we go to hospital, they struggle to pronounce it, it's too long," said Sivagala, 31, whose husband Srikrishnan came to the country as a refugee in 1992. "When he went to apply for Swiss citizenship, there wasn't enough space on the form to enter his name."
While their name is unique, the Thirugnanasampanthamoorthys aren't alone struggling to master the intricacies of everyday life in Switzerland. Some 2 million foreigners -- nearly a quarter of the country's population -- must make their way in a country that relies on their economic contribution, yet stresses cultural assimilation and makes citizenship hard to obtain. After the country voted to toughen residency rules last year, the topic is set to be a hot issue in Oct. 18 elections.
The Swiss population has increased by more than 10 percent since immigration restrictions for European Union citizens were dropped in 2002 and some 35,000 people are granted a Swiss passport each year. Between 2010 and 2014 Switzerland ranked fourth for asylum applications on a per capita basis, according to United Nations data.
More Restrictive
"Immigration preoccupies voters even more than the economy and the exchange rate," Michael Hermann, a political scientist who heads Zurich-based research institute Sotomo. "Because of our tradition of direct democracy, Swiss citizenship conveys more rights than other countries -- so the Swiss think the hurdles for joining must be higher."
Last year, the Swiss voted to cease allowing EU citizens to take up jobs and residence freely, though the government has yet to implement the change. The rules under which people can apply for asylum have been tightened in recent years, and the Swiss People's Party, or SVP, is mulling an initiative to make the process even more restrictive.
An annual survey of Swiss voters by Credit Suisse Group AG found that skepticism of "foreign influence" was "very high."
Foreigners and Swiss citizens with foreign roots are at a greater risk of being poor than domestic counterparts, according to statistics office data. Swiss with ancestors born abroad are less likely to join a club or association than their "home grown" counterparts, and less frequently vote on referendums. That's potentially a concern in a country whose system of direct democracy, with few full-time salaried politicians, is based on grass-roots activism.
No Cold Shoulder
Still, that doesn't mean the Swiss turn the cold shoulder to newcomers who've arrived. In Zurich, new residents are offered German classes and a how-to manual for city services and local life in languages from Albanian to Turkish.
"At first, I couldn't speak Italian and a lot of people helped me," said Sivagala, whose citizenship application is pending and who, unlike her husband, speaks English. "And slowly, slowly I learned."
In view of the upcoming election, which will decide not only membership in both houses of parliament but also ministers in the government, politicians are responding to voters' unease.
The SVP, the largest in parliament, is campaigning for a "marked" reduction of immigration, less spending on foreign aid, and a clampdown on so-called crime tourists who cross the border into Switzerland to burgle houses. A newcomer must "observe law and order, fit in, and earn his own keep," according to a campaign pamphlet.
Policy Debate
"The ongoing discussion among politicians is mainly rhetorical and aimed at winning votes not solving the problem," said Dirk Lehmkuhl, professor of political science at the University of St. Gallen. "Only after the elections will actual solution-oriented policy debate start."
As for Mr. and Mrs Thirugnanasampanthamoorthy, they have taken the SVP's message to heart, even though they don't want to change their surname -- Switzerland's longest, according to a study by Tages-Anzeiger newspaper -- which they say is unusual even in Sri Lanka. Srikrishnan, who works as a cook, votes actively in national referendums, according to his wife, who didn't say what stance he takes.
"Whoever comes to Switzerland needs to fit in, keep it clean," she said, sitting on a tiger-print sofa in a cafe adjacent to her apartment building. "Don't give people the opportunity to misuse Switzerland."
Before it's here, it's on the Bloomberg Terminal.
LEARN MORE