Standard Chartered Tumult in Middle East as Exits Quicken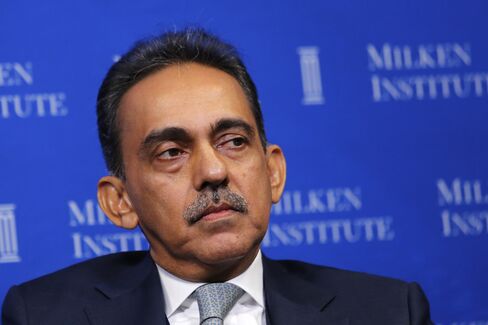 Nowhere, perhaps, is the turmoil at Standard Chartered Plc more evident than in the Middle East, as an exodus of top managers and exits from regional businesses threaten to undermine the bank's top five position in debt capital markets.
While Viswanathan Shankar, Dubai-based chief executive officer for Europe, the Middle East, Africa and the Americas, is the highest profile departure to date, others are rapidly following. Afaq Khan, global head of Islamic banking, Mohsin Ali Nathani, CEO for the United Arab Emirates and Hassan Jarrar, CEO for Bahrain, are all leaving or will do so, according to people with knowledge of the matter who asked not to be identified.
The departures coincide with a push by local banks to muscle in on the bank's traditional strength as an arranger of syndicated loans and bond deals in the Gulf. National Bank of Abu Dhabi has risen six positions since the end of 2013 to second on bond transactions this year, the spot Standard Chartered held at the end of 2013, according to data compiled by Bloomberg. The London-based bank is in fifth place this year. Emirates NBD, the largest Dubai bank, is another local lender also climbing the rankings, advancing to sixth so far this year, compared with ninth in 2013.
"Standard Chartered is scaling back from parts of this region as it focuses on rebuilding its capital base by selling non-strategic businesses," Shabbir Malik, a banks analyst at investment bank EFG-Hermes Holding SAE, said by email from Dubai on Wednesday. "This creates an opportunity for regional banks, which are generally well capitalized and have strong ties with the region, to grow through acquisitions."
Bank Exits
Standard Chartered plans to offer its three branches in Oman to local lenders while retaining its corporate and institutional clients in the country, three people with knowledge of the matter said last month. It's also closing its small and medium enterprise loans business in Bahrain over the next two years, according to people familiar. It's also scaling back at its Qatar retail business to focus on wealthy clients.
"They have a well-established franchise in the region so it would be good for other banks to take over those businesses," Chiradeep Ghosh, an analyst at Securities & Investment Co., said by phone from Bahrain. "They have operations in many countries, so it isn't a wrong strategy to wind up some activities if it doesn't make business sense."
On the personnel side, Raheel Ahmed, global head of strategic transformation for retail clients based in Dubai and Singapore, and Deanna Othman, head of retail banking in Qatar are also leaving, people with knowledge of the plans have said.
Management Changes
The regional departures come amid a restructuring at the top of the bank, which reported a slump in profit in the last two years as slowing growth in Asia -- where it earns most of its revenue -- sparked loan defaults. CEO Peter Sands will be replaced by former JPMorgan Chase & Co. investment banking co-Head Bill Winters in June. Chairman John Peace will leave in 2016, while Jaspal Bindra, head of Asia, stepped down from the board in April.
The Middle East, North Africa and Pakistan accounted for about 10 percent of Standard Chartered's revenue last year. Operating profit fell 10 percent to $769 million as overall lending dropped 3 percent to $22.8 billion. Lower income in the region was mainly because of high levels of liquidity, the absence of market volatility and increased competition from regional banks, Standard Chartered said in its annual report.
"As part of the bank's refreshed strategy, we continue to review our businesses across our various markets," Dubai-based spokesman Ramy Lawand said in an e-mailed response to questions.
The bank is also considering the sale of part of its remaining private equity investments, three people with knowledge of the matter said earlier this month.
Standard Chartered rose 0.3 percent to 1,059.50 pence as of 10:22 a.m. local time in London. The stock has risen 10 percent this year, compared with a 6.5 percent rise in the FTSE 100 Index.
Before it's here, it's on the Bloomberg Terminal.
LEARN MORE