Economists are less downbeat than the Swiss National Bank about the prospects for inflation next year.
Consumer prices will fall just 0.1 percent in 2016, after declining 1.1 percent in 2015, according to the median forecast of 24 economists in Bloomberg's monthly survey. While this year's prediction matches that of the central bank, next year's projection exceeds the 0.5 percent slide seen by the SNB.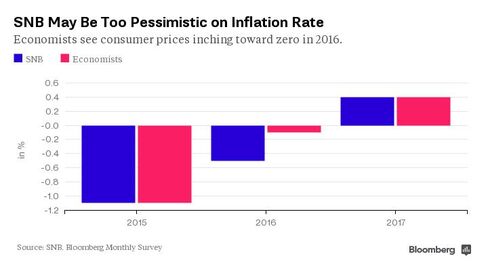 "The effects of the franc appreciation won't play much of a role" in 2016, said Michael Holstein, an economist at DZ Bank AG in Frankfurt, who forecasts an inflation rate of 0.2 percent for that year. He is one of seven economists who see a positive inflation rate in 2016. Overall estimates range from minus 1.5 percent to 0.6 percent. "We also expect the oil price to rise next year, which should lead to a slight pressure on prices and that's why I believe Swiss inflation will again turn positive."
The SNB's shock January announcement that it was abolishing its ceiling on the franc has pushed the currency up roughly 15 percent against the euro. With two-thirds of Swiss imports coming from the 19-nation currency union, that means the inflation rate is plummeting.
Globally, a slump in the price of oil has exerted downward pressure on prices. Deflation risks prompted the European Central Bank's decision to embark upon a government bond-buying program earlier this year.
Back in Switzerland, where consumer prices have been declining since November, the inflation rate will turn positive in the third quarter of 2016, according to the economists surveyed between May 8 and May 14.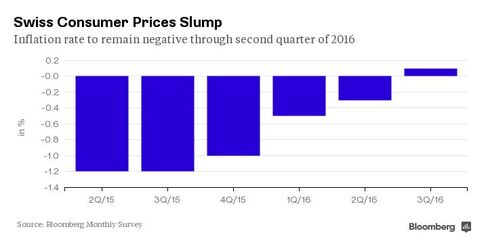 The SNB argues the state of affairs won't be long lasting. With gross domestic product seen expanding just under 1 percent this year and unemployment low, SNB President Thomas Jordan said in a speech in Bern last month that "sustained negative inflation or, indeed, a deflationary spiral, are not to be expected."
Before it's here, it's on the Bloomberg Terminal.
LEARN MORE