SAP CEO McDermott Says Salesforce Unlikely to Be Bought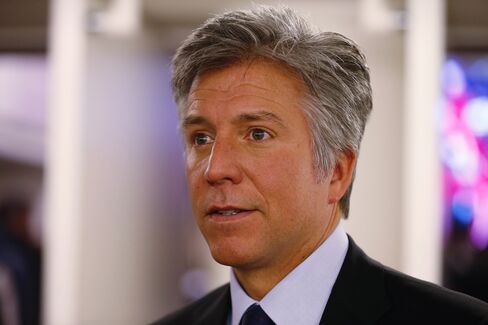 Salesforce.com is unlikely to be acquired by a rival technology company because it's prone to falling revenue and waning pricing power, SAP SE's Chief Executive Officer Bill McDermott said.
"You don't buy companies where prices are going to drop and revenues will be under pressure in the future," McDermott said at a news conference in Mannheim, Germany, before SAP's annual shareholders meeting Wednesday.
"I did the benchmark analysis -- they have the highest cost per user in the industry," he said. "I don't expect that to be the case" that a competitor such as International Business Machines Corp., Oracle Corp. or Microsoft Corp. acquires Salesforce.
McDermott's comments came after he held several meetings last year with Salesforce CEO Marc Benioff to discuss possible strategic alliances and a potential acquisition of San Francisco-based Salesforce. SAP, the biggest developer of business applications, has "zero interest" in buying Salesforce, McDermott said at a customer conference in Florida earlier this month.
A Salesforce spokeswoman in London said Wednesday that the company doesn't comment on market speculation.
Profit Margins
McDermott is positioning SAP to move from software installed on businesses' servers to programs that customers rent as online services. Such contracts deliver less money upfront, which is suppressing profit margins and compelling management to buy cloud-computing software makers while rewriting SAP's own products.
"We weathered the storm," he said at the meeting. Shareholders approved all seven management proposals up for vote, including an increased 1.10-euro-a-share dividend.
Shares of SAP were up less than 1 percent at 68.89 euros at 4:12 p.m. in Frankfurt.
Salesforce was working with advisers to help it field takeover offers after being approached by a potential acquirer, people with knowledge of the matter said in April.
McDermott said Salesforce's software for managing customer contacts and sales pipelines could become a "commodity" over time and the prices it can charge would come down, though its valuation remains high. If Oracle expressed interest in Salesforce, "it's probably better than any scenario for SAP because it's going to cause disruption" among customers, McDermott said.
Salesforce Value
Salesforce's revenues increased 32 percent last year to $5.37 billion. Its market value was $46.9 billion as of Tuesday.
At Wednesday's meeting, SAP Chairman Hasso Plattner said supervisory board member Hartmut Mehdorn, the former head of the Berlin Brandenburg airport project, is stepping down for health reasons. Mehdorns's replacement is Gesche Joost, a professor at Berlin Arts University who runs a publicly funded lab in Berlin in which women research human-computer interaction.
No supervisory board members were up for election. Shareholders approved the supervisory board's actions last year and backed KPMG in Berlin as the company's financial auditor.
Executive Pay
Shareholder adviser Glass Lewis & Co. had recommended SAP investors vote against the ballot measure ratifying the board's actions, since the company hasn't put its executives' compensation up for a vote. The pay is related to SAP's performance relative to its peers, and the company is free to revise pay upwards even if performance targets aren't met, Glass Lewis said.
SAP Chief Financial Officer Luka Mucic said the pay plan included "discretionary components" and a new plan would be drawn up for next year.
"I would strongly disagree that it's only based on absolute measures," he said. "I would say our track record and our scorecard is very good."
Before it's here, it's on the Bloomberg Terminal.
LEARN MORE