Sam Walton's Heirs Lose Almost $6 Billion in One Day
Year-to-date losses total $14 billion combined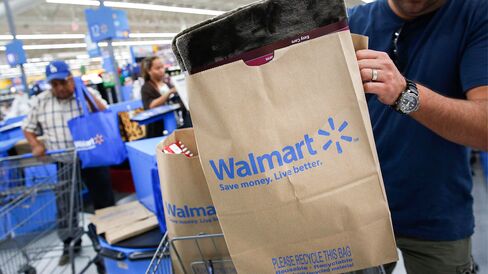 Four Wal-Mart heirs shed $5.7 billion from their collective net worth yesterday after the world's largest retailer posted first-quarter earnings that missed analysts' estimates. The Bentonville, Arkansas-based company's U.S. sales grew more slowly than projected and currency fluctuations ate into profit.
Earnings amounted to $1.03 a share, excluding some items, Wal-Mart said in a statement Tuesday. Analysts had predicted $1.05 on average.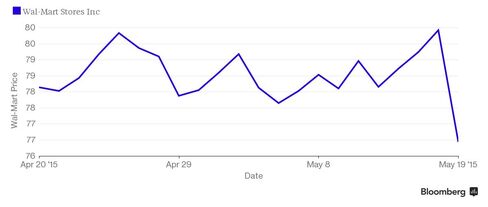 Wal-Mart's stock fell 4.4 percent to $76.43 at the close in New York, the biggest one-day drop since April 2012, causing the fortunes of Alice Walton, Jim Walton, Rob Walton and Christy Walton to plummet. Their shares have declined 11 percent this year, for a total of $14 billion in combined losses. Revenue also was light last quarter, with the company's U.S. supercenters and Sam's Club locations posting slower growth than estimated.
Sam's Club, Wal-Mart's warehouse division, posted its worst first-quarter sales in years, a sign it's falling further behind Costco. in winning the hearts of America's bulk shoppers. After dropping 3 percent last quarter, Sam's Club revenue is now at its lowest level in three years. Costco, meanwhile, saw growth of 8 percent on that basis in its most recent results.
Research for the post is derived from Bloomberg Billionaires Index data. Get the latest intelligence about the world's biggest fortunes on Twitter @bbgbillionaires.
Before it's here, it's on the Bloomberg Terminal.
LEARN MORE