Portugal Sells Debt With a Negative Yield for the First Time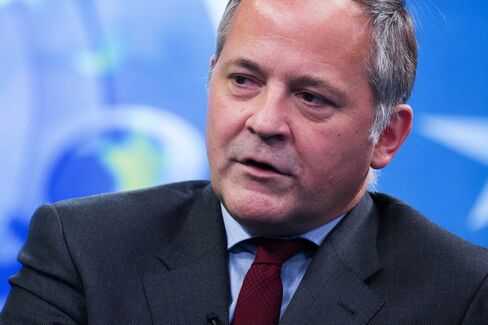 Portugal sold debt securities with a negative yield for the first time as the European Central Bank's bond-purchase program helps to drive down borrowing costs.
The country's debt agency sold 300 million euros ($333 million) of bills due in November 2015 at an average yield of minus 0.002 percent. That compares with an average yield of 0.047 percent at a previous auction on March 18. A negative yield means investors buying the securities now will get less back when the debt matures than they paid.
Portugal has been taking advantage of low borrowing costs to sell longer-maturity bonds and ease debt repayments due in the next three years after exiting a bailout provided by the European Union and the International Monetary Fund. ECB Executive Board member Benoit Coeure said on Monday the central bank will increase the pace of buying under its quantitative-easing program in May and June.
Wednesday's six-month bill auction attracted bids for 4.607 times the amount allotted, compared with 2.783 times in March.
The country's 10-year bond yield was at 2.38 percent as of 12:17 p.m. London time, after falling to 1.509 percent on March 12, the lowest since Bloomberg began collecting data in 1997. The yield climbed to more than 18 percent in 2012. The nation's debt remains rated below investment grade by Fitch Ratings, Moody's Investors Service and Standard & Poor's.
Yields Slide
Borrowing costs also fell at an auction of 12-month bills. The debt agency sold 1.2 billion euros of securities due in May 2016 at an average yield of 0.021 percent, attracting bids for 1.971 times the amount offered. That compares with an average yield of 0.094 percent at a previous auction of 12-month securities on March 18, which drew a bid-to-cover ratio of 1.993.
The debt agency on May 15 said that the indicative target amount for Wednesday's auctions was between 1.25 billion euros and 1.5 billion euros.
The Portuguese government built up a cash buffer before the end of the aid program and the debt agency forecast in an April 30 presentation that Portugal's treasury cash position will be 9.8 billion euros at the end of 2015, compared with 12.4 billion euros at the end of 2014.
Portugal joins nations from Germany to Ireland which have sold government debt with negative yields since the ECB introduced a negative deposit rate in June 2014, meaning that commercial lenders were required to pay a fee to park their excess cash overnight with the Frankfurt-based institution. The ECB cut the rate to a record-low minus 0.2 percent in September.
Before it's here, it's on the Bloomberg Terminal.
LEARN MORE