Polish Ballot Too Close to Call as Presidential Debate Looms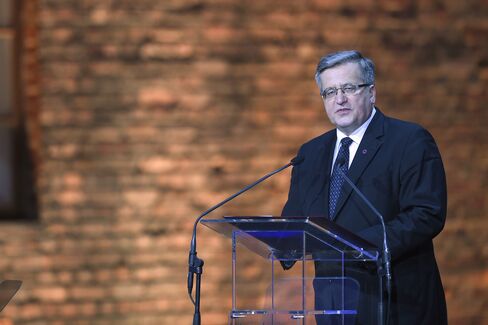 Poland's presidential election is turning into a cliffhanger, with the two candidates neck-and-neck as they go into their final debate on Thursday.
Three days before the runoff vote, President Bronislaw Komorowski has a lead of less than 3 percentage points over his opposition candidate Andrzej Duda in three of the four most recent opinion polls. The incumbent used a debate on Sunday to pull ahead after his challenger's shock victory in the May 10 first round. One of the president's advisers described Thursday's bout as decisive.
Duda's surge from a deficit of almost 50 percentage points three months ago has shaken Poland's political landscape as he rode the discontent of those left behind by the European Union's fastest growth since the global financial crisis. With a general election looming in the fall, it's given hope for his Law and Justice party to regain power from Komorowski's allies in Civic Platform after their eight-year rule.
"It's a tossup -- you'd really need a crystal ball to say which way it's going to go on the election day," Olgierd Annusewicz, a political analyst at Warsaw University, said by phone. "While Komorowski clearly has the momentum going for him right now, a lot is riding on the outcome of this debate."
TVN will host the debate that's set to start at 7:35 p.m. in Warsaw and last for 70 minutes.
Sunday Clash
The president scored a victory in Sunday's debate, reinvigorating his campaign against a challenger 19 years his junior. The two clashed as Komorowski accused Duda of painting the nation as a failure and making economic promises the country can't afford.
The political uncertainty has weighed on the zloty, which became the third-worst performer against the euro among 24 emerging-market currencies since Duda won the first round, according to data compiled by Bloomberg.
The yield on Polish 10-year zloty bonds fell three basis points to 2.78 percent on Wednesday, leaving the premium investors demand to hold the notes above similar German bunds at 214 basis points, or 24 basis points below an 11-month high on April 29.
Komorowski, who was backed by more than 60 percent of Poles as recently as March, surprisingly lost in the first round with a 34 percent tally. Duda, who secured 35 percent support, has led an energetic campaign that channeled discontent over jobs despite strong economic growth.
Komorowski's Comeback
Komorowski has tried to win back supporters by promising a referendum on changes in the voting system and offering job guarantees to young Poles. He's also countered Duda's call to reverse an increase in the retirement age by announcing plans to allow pension benefits after 40 years of work.
The opposition candidate's proposals, which also include raising the level of non-taxable income and more tax benefits for families, could cost more than 400 billion zloty ($109 billion) during the next five years, according to Finance Minister Mateusz Szczurek. That's more than Poland's planned 2015 budget revenue and sixfold the forecast deficit.
Komorowski needs to press Duda for more detail on how he's going to finance his pledges, according to Ewa Pietrzyk-Zieniewicz, a political scientist at Warsaw University.
Poland's president can veto legislation and acts as commander-in-chief of the armed forces with a say in foreign policy. The separately elected parliament passes laws and elects a government, which plans and executes the budget.
Seesaw Contest
The incumbent pulled ahead of the opposition candidate in internal party polls cited by Poland's best-selling Fakt tabloid on Wednesday.
Komorowski was backed by 47.3 percent in May 20 survey by the research company IBRiS, compared with 47 percent support for Duda. The president also led his opponent 47 percent to 45 percent in a Millward Brown survey according to broadcaster TVN, which said that 8 percent of respondents were undecided.
A separate survey by the polling company CBOS showed Duda still ahead in the race with 48 percent to 44 percent for the incumbent.
A potential Komorowski defeat on Sunday would deal a blow to Civic Platform, who opinion polls indicate are running neck-and-neck with Duda's Law and Justice party before a general election due by November.
Judging by the low turnout in the first-round ballot, the damage to Civic Platform has already been done, according to Annusewicz. At 49 percent, it was the lowest in 20 years and shows voters are turning away from established parties.
"The ruling party appears out of touch and in love with itself," Pietrzyk-Zieniewicz said. "This is a warning that they need to find a way to reconnect with the electorate before the general election."
Before it's here, it's on the Bloomberg Terminal.
LEARN MORE