Millennial Move Into 'Savings Years' Seen Supporting U.S. Stocks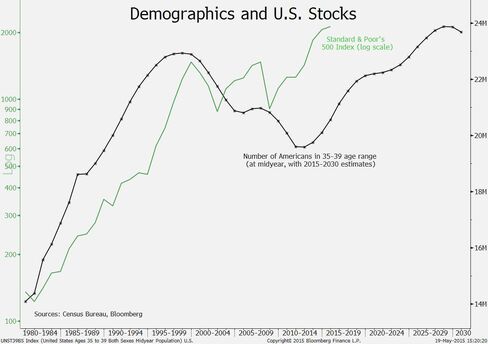 Millennials are about to reach the age at which their investing will provide support to share prices, according to Tobias Levkovich, Citigroup Inc.'s chief U.S. equity strategist.
The attached chart displays a comparison he made two days ago in a report: between the number of Americans 35 to 39 years old, according to data compiled by the Commerce Department, and the value of the Standard & Poor's 500 Index.
People move into their "savings years" within the 35-39 age range, Levkovich wrote. He added that the oldest members of the millennials -- which he defined as people born between 1981 and 1997 -- are about to enter this category.
"The millennials would not have a visceral dislike for stocks" because they were unaffected by the two bear markets since 2000, the New York-based strategist wrote. Instead, their experience would be closer to that of the baby-boom generation, whose share buying fueled a 1980s bull market, he wrote.
Millennials have surpassed baby boomers to become the largest U.S. population group, according to data cited in the report. The younger generation is projected to be 75.3 million people this year, exceeding the 73.5 million boomers, or those born in 1946 through 1964.
The 35-39 category began expanding in 2013 and is poised to rise each year through 2028, based on government forecasts. The projections call for 22 percent growth during the period, to
23.9 million people.
Before it's here, it's on the Bloomberg Terminal.
LEARN MORE