Maple Leafs Hire Babcock Seeking to End Half-Century Drought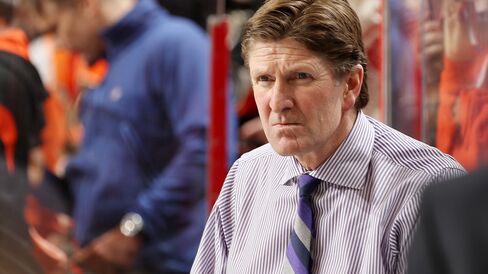 The Toronto Maple Leafs are hiring Mike Babcock as their coach as they seek their first National Hockey League title in almost half a century.
Babcock, 52, took the Detroit Red Wings to the playoffs in each of the past 10 seasons he was head coach, winning the 2007-2008 Stanley Cup. The Leafs, who announced the hiring today on their website, have made the playoffs once in the last 10 years and haven't won the cup since 1967.
While financial terms weren't provided, ESPN reported that Babcock will be paid about $50 million over eight years.
He coached in Anaheim before Detroit, helping the Mighty Ducks reach the final round of the playoffs, a first for the franchise, in 2002-03.
Babcock replaces Peter Horachek, who took over as Toronto's head coach after Randy Carlyle was fired in January. The Leafs are the league's most valuable team according to an estimate from Forbes.
Dave Haggith, a spokesman for Maple Leaf Sports and Entertainment, which manages the Leafs, declined to comment on what Babcock's salary would be.
Rogers Communications Inc. and BCE Inc., Canada's two largest telecommunications companies, bought the team along with the National Basketball League's Toronto Raptors and Major League Soccer's Toronto FC in 2011 for C$1.32 billion ($1.1 billion).
Rogers went on to lock up national broadcast rights to NHL hockey with a 12-year deal worth C$5.2 billion. The team finished second-last in the eastern conference this season, weighing on TV ratings in the first year of the Rogers deal.
Canadian Twitter users erupted over the news, making references to Babcock and the Maple Leafs the most popular terms on the social network in Canada even before the deal was officially announced.
Before it's here, it's on the Bloomberg Terminal.
LEARN MORE