Russia Blames Macedonia Crisis on Foreign Influence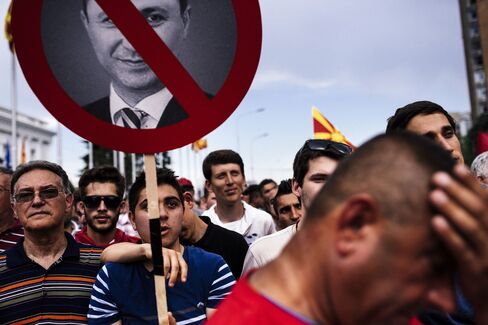 Russia accused "outside" forces of fomenting the political crisis in the Republic of Macedonia, after the Balkan state's prime minister and rival met through the night to defuse tension that sent bonds tumbling.
After a 12-hour emergency meeting in Strasbourg, France, the leaders agreed to calm an atmosphere of party politics, EU parliament member Ivo Vajgl said by phone. Opposition leader Zoran Zaev is calling for Premier Nikola Gruevski's government to step down for alleged abuse of power as authorities also try to ramp up security after a deadly clash with Albanian insurgents.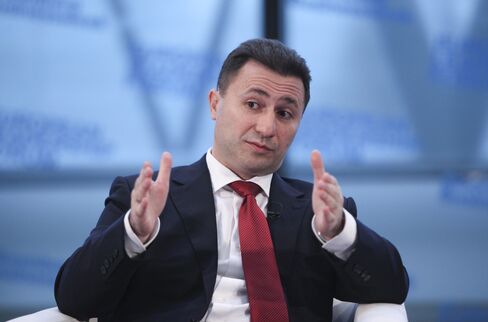 The crisis is led from abroad, Russian Foreign Minister Sergei Lavrov said in Moscow, an echo of accusations against the U.S. and the European Union that they've helped topple governments in the former Soviet sphere of influence. The political turmoil, Macedonia's worst since 1991 independence, erupted after Zaev leaked what he says are wiretaps Gruevski's government used to influence police, judges and diplomats.
"We're very concerned -- the Macedonian events are fairly crudely managed from outside," Lavrov said on Wednesday. "It's very sad and dangerous that, to undermine Gruevski's government, the Albanian factor is being applied."
Russia 'Concerned'
Gruevski was under fire because he has refused to support the EU's sanctions against Russia over its involvement in Ukraine, Lavrov said. Support for a pipeline delivering Russian gas to Europe via Turkey, which is competing with an EU-supported project for Azeri gas, is also a factor, he added.
Governments in countries where protests have helped bring down Russian-backed leaders, including Ukraine and Georgia, say demonstrators took to the streets after tiring of corruption, weak rule of law and low living standards. The EU Council expressed "grave concern" in April over a deterioration in "rule of law, fundamental rights and freedom of media" in Macedonia. It also called for an investigation into the allegations behind the wiretap scandal.
Gruevski's administration denies wrongdoing and has accused Zaev of trying to destabilize the nation of 2 million after 22 people died in fighting between police and militants near the Kosovo border two weeks ago.
The two, who held competing rallies with tens of thousands of people on Sunday and Monday, agreed to extend talks in the capital Skopje and in Brussels to lower the tension, said Vajgl. The land-locked country borders EU members Greece and Bulgaria as well as Serbia, Albania and Kosovo.
----
Macedonia: Key Facts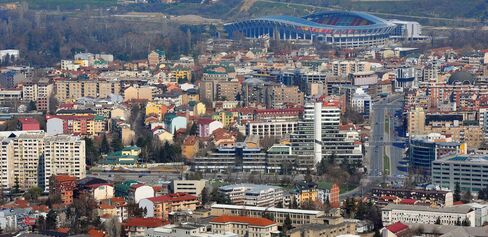 Former Yugoslav republic, population 2 million
Borders EU countries Greece and Bulgaria - EU accession candidate since 2005
Also borders Albania, Serbia and Kosovo
Population about one third ethnic Albanian; Albanian insurgents battled government forces in 2001
In talks with Greece and Turkey over "Turkish Stream'' gas pipeline, aiming to deliver Russian gas to Europe.
-----
Regional Repercussions
"This crisis could have serious repercussions for the whole region," Vajgl, who met the two leaders along with other MEPs and EU Enlargement Commissioner Johannes Hahn, said by phone from Strasbourg.
The yield on Macedonia's 500 million-euro ($556 million) sovereign note due in July 2021 reined in its advance to trade 24 basis points higher at 4.6 percent on at 3:41 in Skopje on Wednesday. Earlier it rose to 4.67 percent, the highest level since the former Yugoslav republic issued the debt last July, data compiled by Bloomberg show. A protracted crisis could damage investment and hurt the country's economic expansion, the International Monetary Fund said on Tuesday.
Gruevski and Zaev also agreed to focus on EU accession, a long-term goal of the country, Vajgl said. The former Yugoslav nation has been a candidate since 2005, though it has made little progress. One of the main hurdles is the objection from neighboring Greece to the use of the term "Macedonia" because the Mediterranean state has a province of the same name.
NATO member Albania also threatened to block Macedonia's bid to join the alliance if it doesn't fully respect the 2001 peace agreement granting broader rights to the ethnic-Albanian community. Greece blocked the country from NATO in 2008 over the name dispute, and the group's members agreed to extend an invitation once the issue is resolved.
Before it's here, it's on the Bloomberg Terminal.
LEARN MORE