Hirai Predecessor Stringer Says Sony Turnaround Taking Hold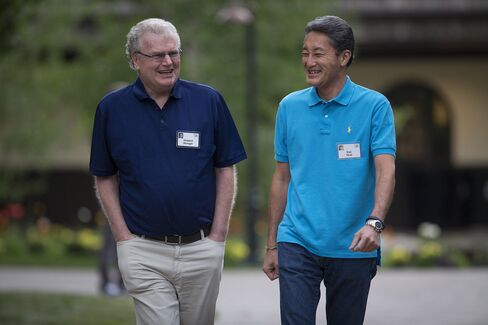 Sony Corp. President Kazuo Hirai is getting a vote of confidence from predecessor Howard Stringer in his effort to turn around the Japanese electronics maker.
The latest incarnation of the PlayStation and restructuring are helping fuel a comeback, Stringer said in an interview with Bloomberg TV. Sony has said it expects net income of 140 billion yen ($1.2 billion) this year after posting its sixth annual loss in seven years.
Hirai has quit unprofitable businesses and pruned costs at the smartphone and movie production divisions to focus on profitable products such as sensor chips used in Apple Inc. iPhone. The PlayStation 4 has sold almost twice as many units as Microsoft Corp.'s Xbox One, according to VGChartz, making it the most successful of the latest-generation consoles.
"The turnaround is happening," Stringer said. "PlayStation is a powerful winner at the moment, beating out Xbox. I wouldn't bet against Sony."
The 73-year-old Stringer stepped down as chief executive officer in 2012, then retired as Sony's chairman the following year. He was named CEO in 2005, and vowed to improve cooperation among the many divisions making everything from movies and music to cameras and digital music players.
Shares of Sony have jumped 59 percent this year in Tokyo trading, the third-best performance on the Nikkei 225 Stock Average. The shares fell 0.9 percent to 3,920 yen as of 11:08 a.m. local time.
TV Losses
A surge in the yen's value during the global financial crisis helped intensify competition from Samsung Electronics Co. in the television business, leading to widening losses for Sony. Hirai, 54, was named to replace Stringer in 2012, the year Sony reported a record 457 billion yen net loss.
Stringer also said rising competition in the movie and television production business from companies such as Netflix Inc. and Amazon.com Inc. is probably good for consumers, while challenging established studios.
"We are all under siege one way or another," he said.
As online competitors challenge Sony's traditional movie and music production businesses, hackers pose another threat to the company.
A group calling itself Guardians of Peace penetrated Sony Pictures' internal computer network, then published thousands of documents including employees photos, addresses, credit-card numbers and workplace harassment reports on file-sharing websites.
Hacking Costs
The document dumps, spread across weeks, eventually included internal e-mail exchanges among employees and details about pay.
The breach cost Sony $15 million, rendered thousands of its computers inoperable and led to Sony Pictures Entertainment Chairman Amy Pascal's replacement. The company has said it's improving security and warned media organizations not to use data stolen by hackers.
While the risk of further attacks remain, Sony's entertainment divisions are being more careful with e-mail, said Stringer, who confirmed that he does not own Sony shares.
"If somebody wants to get at you, they will get at you," he said. "The difference is that people no longer write e-mails with content they shouldn't do."
Before it's here, it's on the Bloomberg Terminal.
LEARN MORE