BOE Minutes Reveal Plaudits for Its Role in Iran Hostage Crisis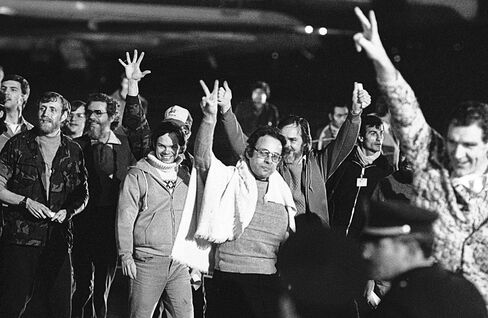 The Bank of England's role in helping to secure the release of U.S. hostages held in Iran from 1979-1981 won it praise from British and American leaders, according to documents published Wednesday.
The BOE acted as intermediary by holding funds the U.S. paid to Iran in exchange for the hostages' return, minutes of meetings of the bank's governing board in 1981 show. Little detail is provided on what exactly the BOE did, with remarks of congratulation at the meeting reported in somewhat more length.
Governor Gordon Richardson told the Court of Directors that he had received "messages of thanks and congratulations from numerous quarters," including Prime Minister Margaret Thatcher and ex-U.S. President Jimmy Carter. He also "expressed his appreciation to major British banks for the contributions which they had made to the complex financial arrangements associated with the release of the hostages."
The terms of the captives' release required the U.S. to place an $8 billion security deposit into a Bank of England account controlled by the Central Bank of Algeria, according to the U.S. Congressional Quarterly. The amount was two-thirds of Iran's frozen assets.
The court "wholeheartedly concurred" with the governor's statement that thanks were due to BOE staff who participated in the affair. The minutes were released as part of Governor Mark Carney's push to increase transparency at the central bank, and follow the publication in January of documents from 2007 to 2009, when the U.K. was dealing with banking meltdowns and a slide into recession.
Before it's here, it's on the Bloomberg Terminal.
LEARN MORE