Aussies Most Confident in 16 Months After Budget, RBA Rate Cut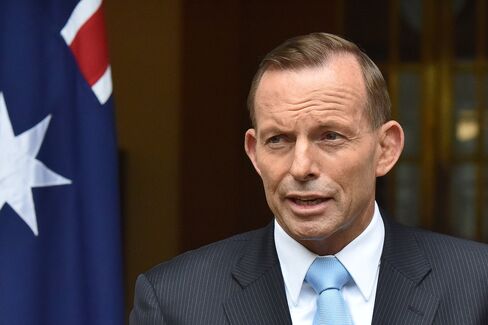 Australians are the most confident they've been since January 2014 after the central bank cut interest rates and the government announced a A$10 billion ($7.9 billion) boost for families and small businesses.
The Westpac-Melbourne Institute consumer sentiment index rose 6.4 percent in May from April and was above 100 -- the point at which optimists outnumber pessimists -- for the first time since February. The increase is the first strong result in the month of May since 2007, Westpac Chief Economist Bill Evans said in an e-mailed statement.
The rise mirrors a boost in poll ratings for Prime Minister Tony Abbott after his Liberal-National coalition government announced tax cuts and instant writeoffs for small firms in his budget May 12. The upbeat outlook is a turnaround after last year's austere budget saw confidence plunge and helped trigger a challenge to Abbott's leadership. It also supports the Reserve Bank of Australia's view that rate cuts are boosting household spending.
"The results from this survey will certainly provide some encouragement for the Bank that households might continue to lift the pace of expenditure growth," Evans said. "The most likely scenario is for an extended period of steady rates whilst recognizing that conditions in the labor market remain fragile and this latest boost to confidence will need to be sustained."
The RBA announced a 25-basis-point cut in the cash rate to a record 2 percent on May 5 ahead of the consumer sentiment survey conducted May 11-16.
Abbott's approval rating rose 2 percentage points to an eight-month high of 39 percent, according to a Newspoll published in the Australian newspaper May 18. Forty-six percent of respondents said the budget would be good for the economy, the best rating for seven years. An Ipsos poll published by Fairfax newspapers on the same day put the coalition level with the opposition Labor Party, after trailing by 8 percentage points a month ago.
Before it's here, it's on the Bloomberg Terminal.
LEARN MORE