American Says Upstate N.Y. Trips at Risk If LaGuardia Limit Ends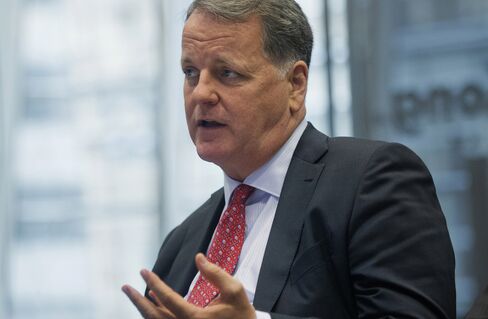 American Airlines will start flying long-haul routes from New York's LaGuardia Airport with larger planes, dropping service to some smaller cities, if local flight restrictions are removed.
With the number of takeoffs at LaGuardia limited, regional markets would inevitably be losers as American and competitors bring in bigger jets to start cross-country trips to destinations such as Los Angeles and San Francisco, Chief Executive Officer Doug Parker said.
"We absolutely would fly it," Parker said of the transcontinental routes. "You can't be one of the largest airlines in the world and allow your competition to fly from the closest airport to New York to the West Coast and not do it yourself."
The Port Authority of New York & New Jersey is assessing whether to change the so-called perimeter rule, which restricts flights longer than 1,500 miles (2,400 kilometers) from LaGuardia. The rule, put in place in 1984, was meant to encourage business travelers to fly out of close-in LaGuardia and push vacationers to John F. Kennedy International and Liberty airport in Newark, New Jersey.
Since then, nonstop flights from the New York City area to Western cities such as Las Vegas and Seattle are only accessible from Kennedy or Newark.
Delta Air Lines Inc., with the most flights at LaGuardia, and No. 2 American are seen by analysts as having the most to gain if the limit is dropped.
More Profitable
Longer flights, with more passengers, are more profitable for airlines. With no way to add flights at LaGuardia, the least-profitable service will be cut, Parker said in an interview Tuesday at Bloomberg's New York headquarters.
"Short-haul traffic, like flights to upstate New York, will be canceled because we only have so many slots, and we'll put in big airplanes and fly them to L.A. and San Francisco," he said. "We're happy with that."
Any change would occur "only after a thorough study and analysis and consultation with all interested parties in a public and transparent manner," according to a February statement from the Port Authority, which controls the New York City area's three major airports.
Parker declined to name specific routes that could be cut since no decision has been made by regulators.
American is concerned that LaGuardia will be overwhelmed, according to Parker, who said the airline has "had conversations with the Port Authority" on the issue.
"We're concerned that the airport can't handle it," he said. "The facility is not ready for it."
New Terminal
The Port Authority plans to select a preferred bidder at a May 28 meeting to build a new LaGuardia terminal. Plans call for construction of a 35-gate, 1.3 million-square-foot (120,770 square meter) central terminal with more restaurants and lounges, bigger gate areas and improved passenger and baggage screening.
Twenty new gates will open in the fourth quarter of 2018 and the $3.6 billion project will be completed in 2021, according to preliminary plans. The airport is projected to handle more than 30 million travelers a year by 2020, up from 26.9 million last year, according to the Port Authority.
Before it's here, it's on the Bloomberg Terminal.
LEARN MORE